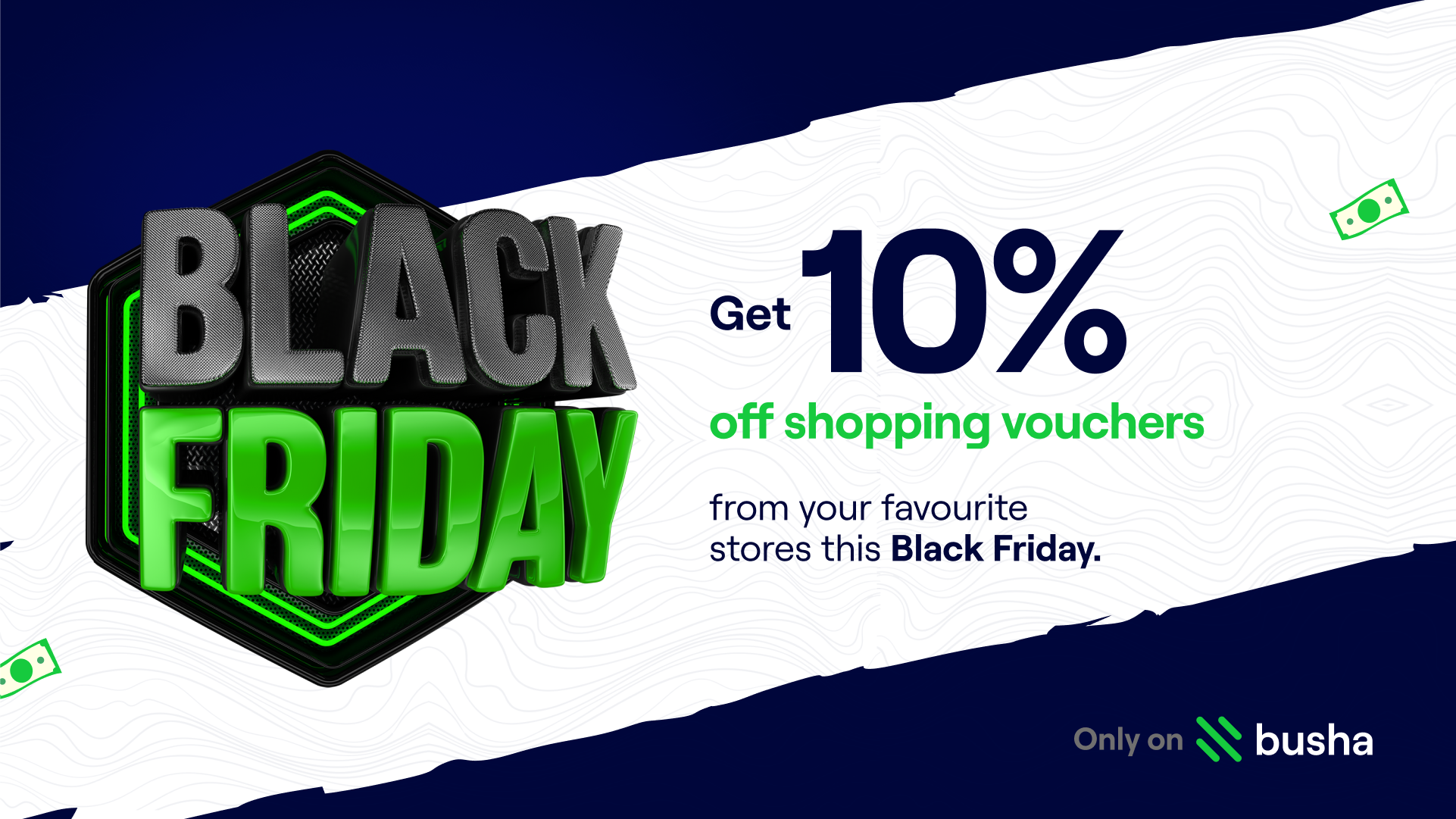 10% OFF SHOPPING VOUCHERS ON BUSHA SPEND THIS BLACK FRIDAY!
Up to N10,000 cash back on Spar, Jumia, Justrite, Filmhouse Cinemas and many more shopping vouchers. T&C applies.
This Black Friday, we are pleased to be launching vouchers on Busha Spend.
Now, you can convert your crypto asset or fiat balance directly to shopping vouchers and pay in-store. Another win for real-life crypto utility!
To make Black Friday extra special for you this year, Busha is offering 10% cashback on vouchers to a maximum of N10,000 per voucher purchase. That means you get N10,000 off a N100,000 Spar voucher, and you still get to go enjoy whatever black Friday offering from the merchant in-store.
This however is limited to the first 2,000 customers to take advantage of the bonus cashback.
The campaign is open to new and existing customers.
Terms and conditions apply.
TERMS & CONDITIONS
To qualify for this promotion, you need to be a Level 2 customer on Busha.
Cashback is automatically credited to your Naira wallet after the purchase. For a N20,000 voucher purchase, you will pay the equivalent N20,000 and receive a N2,000 cashback to your Naira wallet.
Cashback is available to the first 2,000 customers to take advantage of the Black Friday offer, after which the cashback percentage will be reduced to 2%.
Busha reserves the right to disqualify customers deemed to be pseudo-customers, displaying sign-up manipulation tricks, bulk account registrations or other fraudulent attempts.
Busha reserves the right to cap the cash-back reward at a maximum of N100,000 per user.
To learn more, follow us on our social media platforms: Twitter, Facebook and Instagram or join our Telegram channel.
Join the newsletter to receive the latest updates in your inbox.