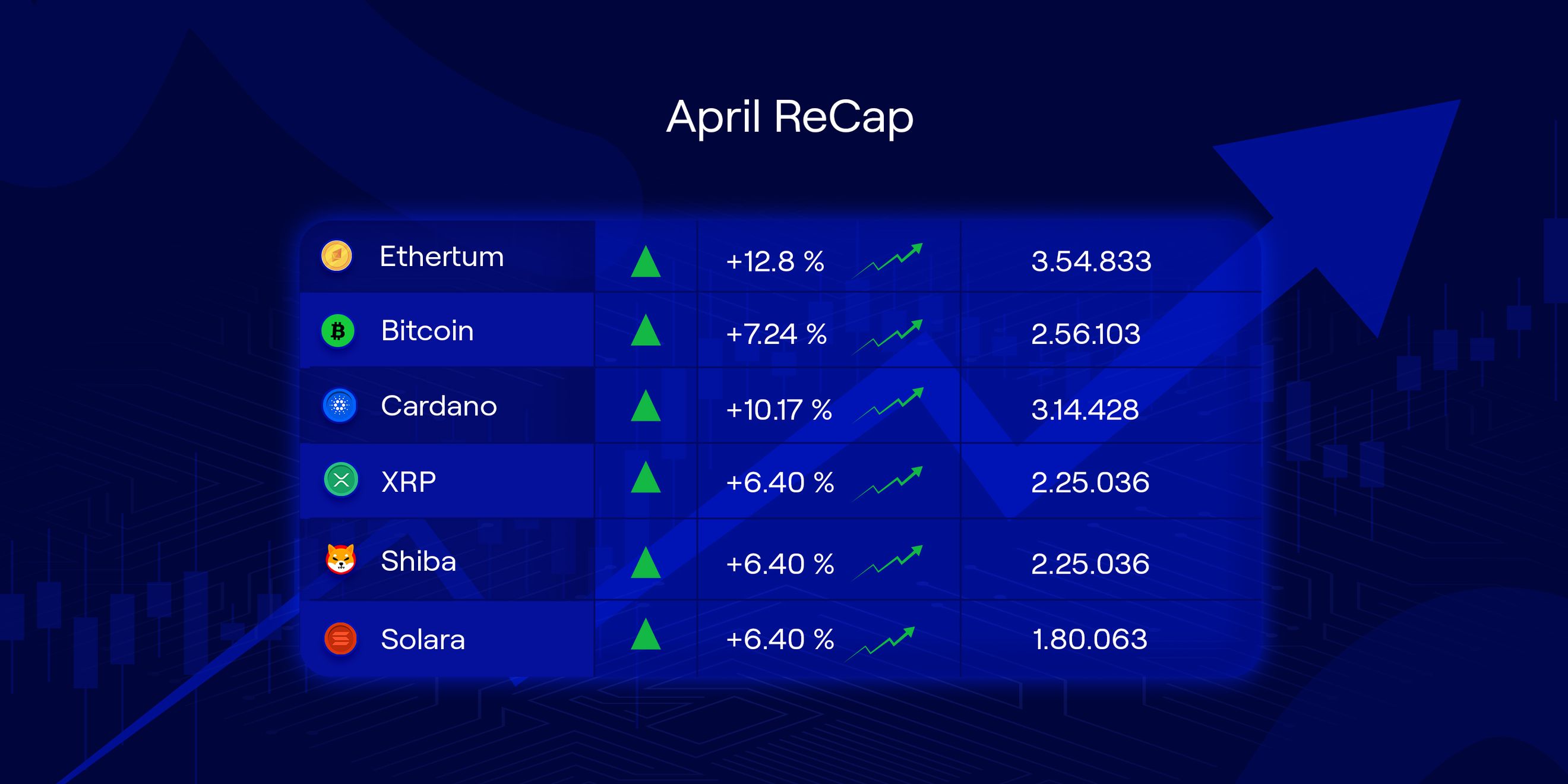 April ReCap
Welcome, Tribe! April encapsulated a lot of celebrations, such as Easter and Ramadan; we hope you enjoyed them. Speaking of April, "10" happened in crypto space. A few were very shocking; let's dive in
Bitcoin to the moon!!
With April comes springtime, and so it appears as the crypto winter slows down. For the first time in 10 months, Bitcoin scaled above 30k. While some believe it was expected based on the recent market trajectory, the excitement across the crypto-verse was nevertheless palpable.

The total market cap of Bitcoin has risen by 4.4% as the coin keeps making strides. Q1 might have brought in more crypto millionaires, but Q2 is clearly not playing.


Twit-Doge?
By the way, did you notice Twitter's short-lived logo facelift? I mean, we all know Elon has a thing for satire and jokes. But to take it as far as changing Twitter's logo from a bird to the popular meme coin (Dogecoin's) logo? No surprises then when Dogecoin's value went up by 30% afterwards. And still, the app keeps rapidly changing before our eyes.

Removing and almost immediately returning celebrity blue ticks to adding paid accounts to recovering previously banned accounts. Musk has taken the phrase "building in public" to the next level. But we're not upset or anything. Twitter is currently the leading social media giant in crypto adoption worldwide, showing interest in letting users view real-time crypto trading data on the platform via a potential new partnership with eToro.


Is NFT on the rise?
Anyhoo, do you remember NFTs? Yeah, well. A new survey by CoinGecko has shown a recent increase in NFT ownership, as apparently, 3 in 4 crypto owners have an NFT. The survey also showed that people couldn't stop buying NFTs once they tasted their first one.

Even former president Donald Trump cashed out following his infamous court charge. The NFTs he created in December 2022 sold out 70,000 dollars worth of tokens last month. I guess it's time to brush up on our NFT creation notes.


Zimbabwe needs digital help
Meanwhile, here in Africa, Zimbabwe plans to launch a digital currency backed by gold. As with Nigeria's eNaira, for example, Zimbabwe hopes to create an alternative currency to fight the volatility affecting their local currency, Zim Dollars.

Because just less than a year ago, the Zim Dollar was 150 to 1 US Dollar, but now, it's hitting a whopping 1000 Zim Dollar roof to the US Dollar. The Central Bank's Governor of Zimbabwe believes that people exchanging their Zim Dollars for this latest gold-backed token will hedge against the volatility.


The Biggest Wallet in the World
If there's one crypto enthusiast that has refused to be stopped so far, it's Michael Saylor. The founder and chairman of MicroStrategy can't get enough of Bitcoin. Last month, the group announced their purchase of an additional 1,045BTC to their already-large wallet worth about 29 million dollars.

Remember that Microstrategy has the largest Bitcoin wallet in the World. This latest purchase now brings their balance to 140,000BTC worth over 4 billion dollars. Whether it's a green or red market, Saylor and the group continue to blaze the trail.


The Shanghai Upgrade
The Shanghai upgrade was successfully rolled out at exactly 22:27 UPC time on the 12th of April, 2023. The upgrade allows validators to withdraw their already staked coins. So we waited and watched and expected a shift in the market for Ethereum. And it did. Ethereum jumped past the 2000-dollar stride. Like Bitcoin, this is a new high in the last ten months.

The upgrade's most significant change is to allow validators to withdraw staked coins. This could prompt a mass liquidation event or alternatively lead to a surge in new users—only time will tell.

So, so far, so good. Nothing else screams "BUY" right now in the crypto-verse like this past month.

I'm Bolu. And I'll catch you next time.

Join the newsletter to receive the latest updates in your inbox.