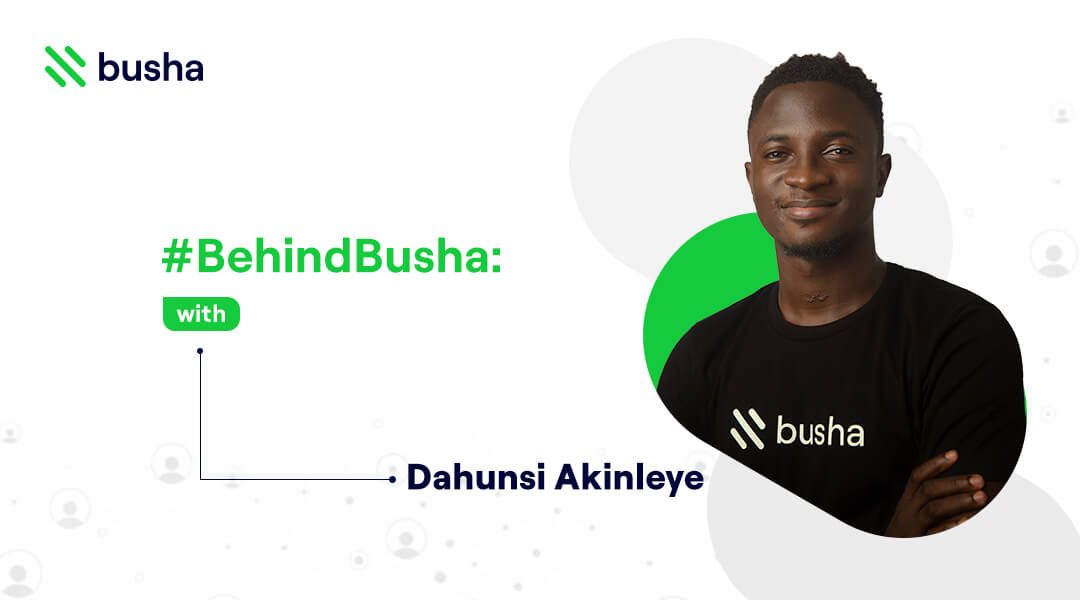 #Behind Busha: How Support is becoming the heartbeat of every fintech community with Dahunsi Akinleye
Introduction
Support teams are becoming an integral part of the global tech community and for crypto enthusiasts here in Africa. In our conversation this week with Dahunsi Akinleye, Support Lead at Busha, we unraveled unique features that keep support teams fresh, human and customer-centric while navigating the crypto space.
Dahunsi began with an educational background in petroleum engineering and ever since, walked different career spheres as a keen reader, introvert and crypto enthusiast.
Q1: How has support been essential to fulfilling Busha's mission to onboard more Africans into the crypto ecosystem?
Dahunsi: Being a part of Busha for almost 2years+ has been quite revealing. As we could agree, African communities and a nation like Nigeria could always be found lacking when there's a breakthrough within global industries/markets. Many regions adopt or at least try these new advancements in tech, while we wait for years to get sold information and then struggle to meet a huge gap.
Busha is one of many unique financial technology solutions founded on a principle that doesn't require Africans to sit and wait, but rather "Stand, Act and fully participate in an ecosystem that is very young, full of opportunities, and ever-changing. As for the role of support teams, let's just say we are the backbone of every fintech service brand with an objective to guide customers on a lifelong journey.
Q2: How often do activities within support affect the day-to-day life and services at Busha?
Dahunsi: Needless to say, support teams work actively as a multi-channeled network of interrelationships both within and outside a fintech service provider like Busha.
Beginning outside as a front-end desk where customers can easily get assistance, lodge complaints, and share their daily experiences both positive and negative about a brand and its product offerings. The support staff is the first point of human interaction for service providers allowing them to make a lasting impression as well as adequately feeding customer reactions inside the company itself.
Within the company's walls, support teams work like neurons taking feedback to departments that handle tasks with precision, escalate issues to the right arm for resolution, and finally play an advisory role when it comes to user preferences for new feature launches and updates.
Q3: What are some wrong ideas people have about customer support?
Dahunsi: In my experience working as lead support and even before I started this journey, I saw a belief system where everybody thought just anyone can work in support. It's one of the simplest and faulted ideas applicants, customers, and other coworkers can get. Support requires a couple of technical skills
Another odd notion that is often hard to admit and difficult to say out is that customers/users can be wrong! We often hear the line "a customer is never wrong" whereas they can often be. Nevertheless, a great support staff has to empathize, understand and with a great smile, make such customers understand the situation without having to escalate into arguments.
Q4: What is one major issue support teams across fintech service providers face and how do we solve it?
Dahunsi: A major issue or glitch in the support matrix I've seen as well as experienced and interacted with using other fintech solutions is the long wait time. Many of these service providers promise rapid support in times of customer distress but are either hardly there to proffer resolutions or take almost weeks to reply.
At Busha, it has been our long-standing practice to reply, resolve and balance user issues in a matter of minutes.
The solution is having a proactive set of support staff, our 24/7 human support contact which we have mastered the art of without having to stretch teammates as well as having self-service guides that aid users in day-to-day interactions with our products.
One last sauce is for fintech providers to create designated trouble-shooting teams that work in sync with support staff.
Q5: What are some features of great support staff?
Dahunsi: A great support staff must be amazing at multitasking, great at listening not just hearing, they should be quick-witted and thoughtful to all kinds of customer reactions, as patient as a good friend and most uniquely, a great support staff is empathetic. This translates to how well, deep, and human they resolve user feedback of any nature in good timing.
Q6: If you assumed the role of CEO at Busha for a single week, what would be the first task you'd attend to with a lead support background?
Dahunsi: hahaha! Before assuming your fictional role, it would be unwise not to admit the immense efforts of our current CEO and COO.
Honestly, Busha has come far not only as a result of their expert leadership but also because these guys filled the role of support when this company started. It's safe to say, Busha has and always will be in great hands.
Now to answer your trick question. One week might not necessarily be enough, but I'd definitely look into creating an NFT marketplace for creators and collectors seeing how vast that community is expanding and how Africans could take advantage of it.
A second idea that I envision falling together with the first is Busha leading her community into the metaverse. I absolutely love the idea of virtual gaming, communication, and interaction as an introvert myself who hardly goes out much. It could be a great meeting point for people, users, and brands to interact with their communities.
Q7: Did you originally set out on a journey to a be support staff, if yes how has it been, if NO, what was the primary aim?
Dahunsi: It's funny how the Nigerian educational system gives you that "what I ordered vs What I got life"
Originally I studied Petroleum Engineering! Then worked as a content strategist, and social media manager and resumed at Busha as a content guy with a quick transition to a support role due to the increase in our customer base. As earlier mentioned both founders actively filled the role before and during my switchover to the support side of life.
Ever since, it's been roses, thorns, and sunshine, as every great journey in life should be.
I see myself in a very beautiful position with a lot of room for growth plus who knows, my love for product management keeps increasing every day.
Q8: How are you navigating the crypto space and what are some emerging trends you see now and beyond within the crypto ecosystem and financial technology industry as a whole?
Dahunsi: Playing a lead role gives one a lot of insights into industry happenings and speculative trends for the future.
I'll briefly highlight some of these areas or topics. The first is an industry deep-rooted in research, survey of user experience, and developments based on growing human needs in sync with technological advancements.
Secondly, there would be more interaction and immersion with blockchain-related tech. From decentralized applications and finance to trading and even play-to-earn games, many individuals will come to embrace what we have to offer within this space without a second thought.
Join the newsletter to receive the latest updates in your inbox.