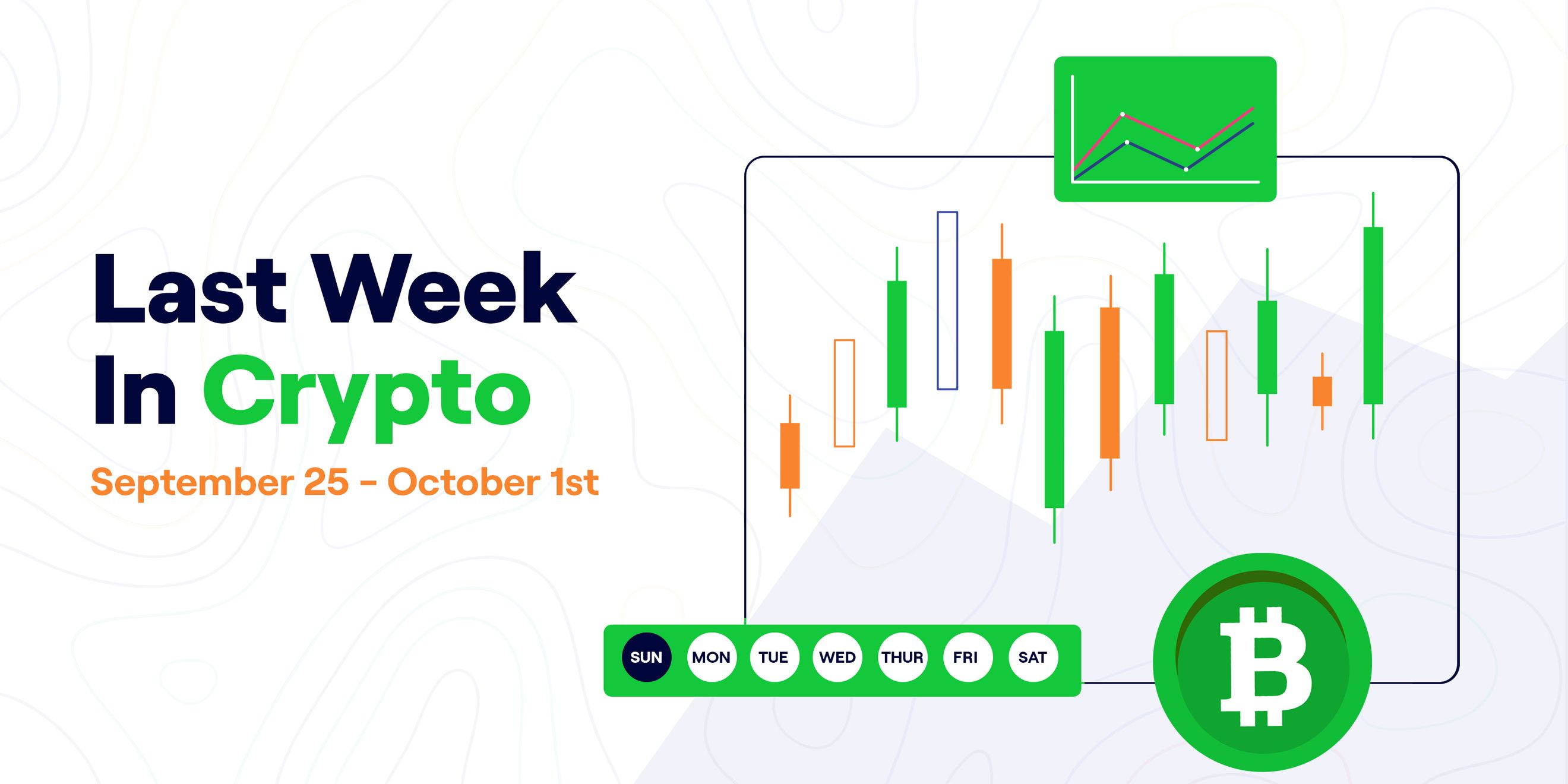 Last Week In Crypto - September 25 - October 1
HAPPY INDEPENDENCE to our great country NIGERIA, in the spirit of patriotism, I bring you another exciting edition of our weekly crypto digest….We aim to inform and entertain, and yes, this is the right place for you, so sit back and enjoy this piece.
BRAZIL NUBANK MADE A HUGE PROFIT IN 3 MONTHS
Just barely two months since Nubank started offering Bitcoin and cryptocurrency, there are reports that they have over a million new customers. With 60 million users and just diversifying into cryptocurrency in early August, it announced that they have started offering Bitcoin, Ethereum and other coins to its users. The co-founder of Nubank, David Valez, stated that the new 1 million users was a goal intended for a year that they have achieved in less than two months and reinstated that the goal is to popularise crypto-assets among users of its mobile bank.
Although the bank didn't publish the total investments made in this period, the bank said it looks forward to keep adding more currencies to it. The product is operationalised by blockchain infrastructure Paxos, which acts as a liquidity provider and performs the custody of cryptocurrencies. Moreover, the firm is responsible for the global protection of client assets. Nubank clients can trade crypto at a 0.12% commission, with a minimum order of BRL 1.00 (US$ 0.20) and no added spreads, markups or custody fees. The Fintech is currently one of Latin America's five most valuable financial institutions.
Do Neobanks need to start adopting cryptocurrency or a move too soon for African Fintechs?
THE WINTERMUTE HACK!
Haha! A new crypto conspiracy theory is out, and as with every other gist, it has the same tantalising juice. It involves a significant $160 million hack into algorithmic market maker Wintermute. Librehash believes it was an inside job!
CoinTelegraph reported a few weeks ago that a hacker had exploited a bug in a Wintermute smart contract, which enabled the hacker to swipe over 70 different tokens, including $61.4 million in USD Coin (USDC), $29.5 million in Tether (USDT), and 671 Wrapped Bitcoin (wBTC), worth roughly $13 million at the time. The author of the analysis piece, James Edwards, who is not a known cybersecurity researcher or analyst, made a lot of inferences from his investigation. There are so many technical details to this theory, but I will buttress it in 3 simple points;
Librehash via crypto sleuth, postulated that the Wintermute hack required a level of security clearance only available to insiders.
He also highlighted deposits from Kraken and Binance as red flags pointing to an insider attack.
Wintermute made a bounty offer, but the hacker didn't respond.
Cointelegraph reached out to Wintermute concerning the allegations, and they responded. I quote, 'an unsubstantiated rumour from a Medium page that has factual and technical inaccuracies associated with the claims made. Claims like this require professional and independent fact-checking, which clearly has not happened here.'
No official steps have been taken, but I intend to update your guys on any further news.
KAZAKHSTAN AGREES WITH BINANCE
Binance, a cryptocurrency exchange company, has signed a Memorandum of Understanding (MoU) with the Financial Monitoring Agency of the Republic of Kazakhstan as a part of its global law enforcement training program. Binance rates itself on its compliance infrastructure as being the best in the world. This compliance infrastructure has helped them to gain regulatory approval from so many countries that deems cryptocurrency illegal.
Binance, law enforcement program, has been run globally in some specific countries for the past year, although officially launched on September 26 this year. This program has already been conducted in Israel, Canada, Brazil, Brazil, France, Germany, Italy, the United Kingdom and Norway. A recent result of this program is the regulatory approval Binance just got in Spain, Italy and France.
The program aims to identify and block digital assets obtained illegally and used to launder criminal proceeds and finance terrorism. With Kazakhstan emerging as one of the leading nations in crypto mining, this is a significant win for Binance in getting approval in the country.
After the approval, Binance hopes to raise awareness among regulatory bodies to help develop better cooperation globally.
MAN STEALS BACK BITCOIN SEIZED BY THE FEDS
The feds could only sit and watch helplessly as thousands of bitcoin were retrieved from a wallet they kept in a safe as evidence. It all started with the arrest of 39 years old Larry Harmon for years of racketeering, fraud, money laundering, etc., in February 2020. Larry pleaded guilty to laundering up to $311 million through crypto transactions spanning up to 8 years. He started by developing search engines and apps to sell guns and illegal drugs and move unsanctioned money over the dark net. Four years ago, the feds began to feel the face behind all the transactions leading up to his arrest in 2020. He was arrested in his office with a Trezor crypto storage device, a small computer attachment that looks like an MP3 player. This device requires 24 combinations of letters and numbers to unlock and a four-digit pin.

During the trial, Larry cooperated with the feds and released the numbers to this device which was then stored in their wallet. Then something bizarre happened; with the feds watching helplessly, 713 digital tokens were remotely wiped from the storage device seized from Larry, worth around $5 million then. Larry was accused of doing that, but he swore he had absolutely nothing to do with that. He then helped the feds link the transaction to his younger brother, Gary Harmon. Like the feds arrested Nigerian Hushpuppi, they followed up with his social media features of Gary, to find more incriminating evidence against him. Then, a photo sufficed online where he was in a bathtub full of hundreds of dollar bills with some barely clad women. Bam! Where did he suddenly get the money from was the question because the feds believe they have confiscated the whole family's assets. Informants were brought in, evidence was fully formed on Gary, and he was arrested. His trial has been dated to February next year while his lawyers scramble to get bail for him.

Authorities have started taking precise steps to reduce illegal transactions and this is a clear example of what they would do to arrest criminals on the platform.

SHIBU INU'S NEW GAME HAS A DOWNLOAD DAY
Via an announcement on Twitter, Shiba Inu officially announced that October 6 is 'download day' for the Shiba Eternity collectable cards game. This is a postponement from the earlier announced day of October 1 by Shiba Inu. The lead developer of Shiba Inu, Shytoshi Kusama, stated that 5% of all profits from the game would be allocated to future SHID supply burn.

Shiba Inu believes it can match the revenue generated by its competitor, Hearthstone, one of the most popular collectable games. While the big news about the new game was revealed, the meme coin didn't react significantly to the announcement with the coin going up by only 1.04%.

Can the meme coin SHIB exponentially grow coming into the new year?

BUTERIN ACCUSES TERRA TEAM
Co-founder of Ethereum, Canadian Vitalik Buterin, gave a brutal opinion piece on the Terra Luna team during a sit-down with New york columnist Ezra Klein. According to Buterin, he believes the terra project team attempted to manipulate the market using the native coin with all the conspiracy theories surrounding them this year.

In an earlier report, I mentioned the insurmountable fall of the Luna coin early this year, and how there has been a sudden uprising of the coin in recent times. Buterin said no one knows the terra team's plan for their vast cryptocurrency market reserve. Buterin believes decentralization is not the solution to everything; as with what happened with the Terra crash this year, he considers the algorithm will still break if robust plans are not taken, and poor execution is what's in place.


MEME OF THE WEEK

HAHA!!! The NFT-verse ain't taking a break.
https://twitter.com/cryptotea_/status/1574567822264508431?s=46&t=AJUR8KzStfMDL6ahCO5xEw
In today's episode of 'Bolu Answers', I will make my view known on a rather conflicting subject.
What are the four types of crypto?
Since the evolution of cryptocurrency in 2009, the landscape of the digital currency ecosystem has never remained the same. Its digital assets make use of blockchain technology. And because it employs the anonymity of sending funds, it bought a wave of popularity in the mid-2010s.
EuroMoney defines Blockchain Technology as a system of recording information that makes it difficult or impossible to change, hack, or cheat the system. A blockchain is essentially a digital ledger of transactions that is duplicated and distributed across the entire network of computer systems on the blockchain.
But there are so many types of cryptocurrency we may not be able to get to an end because new ones are almost created every day. But they are four major types that control the market. They are like the big four financial institutions (JP Morgan and the rest type of), and I will quickly brush you guys through it:
BITCOIN: regarded as the 'Odin' of cryptocurrency and the first decentralised coin to use blockchain technology for payments and digital transactions. Bitcoin blockchain acts as the public ledger for all transactions ever performed on bitcoin, more like Zenith bank using the CBN as a ledger for every single transaction done in their bank.
It currently sits on a massive market value of $749 billion, a drop from the over $1 trillion worth it had at the beginning of the year due to the unprecedented bear market.
ETHEREUM: Ether is a token used to perform transactions on the Ethereum network anonymously. Ethereum is a decentralised, open-source blockchain with smart contract functionality. It uses both smart contracts and decentralised apps, also called dApps. Ethereum is both a cryptocurrency and an application sandbox. Recently, the popular ether merge happened, which brought a revolution to their network in which the result will be seen soon enough.
Ether's market value is $313 Billion as of this writing. It's a market competing close enough to Bitcoin and hopes to meet up on Bitcoin progress in the future.
TETHER: Tether is a stablecoin that uses the U.S dollar (fiat currency). Stablecoin is a fixed-price cryptocurrency whose market value is attached to another stable asset. Unlike regular cryptocurrencies, a stablecoin can be pegged to assets such as certain fiat currencies that can be traded on exchanges, including the U.S. dollar or the Euro. The brilliant idea behind stablecoins was combining cryptocurrency with a sovereign government's controlled stability of a centralised currency.
Tether's market cap currently sits at $79.5 billion. It uses the USDT coin.
BINANCE COIN: It can be used as a payment token and currency. It's controlled on the Binance blockchain. Binance Coin is the cryptocurrency issued by the Binance exchange and trades with the BNB symbol. As of Q2 2022, Binance Exchange is the largest cryptocurrency exchange in the world, with a volume of $7.6 billion.
Its market capitalisation is $62.6 billion.
Ps: These coins are available on the Busha app. So, sign up and start trading now!

Join the newsletter to receive the latest updates in your inbox.