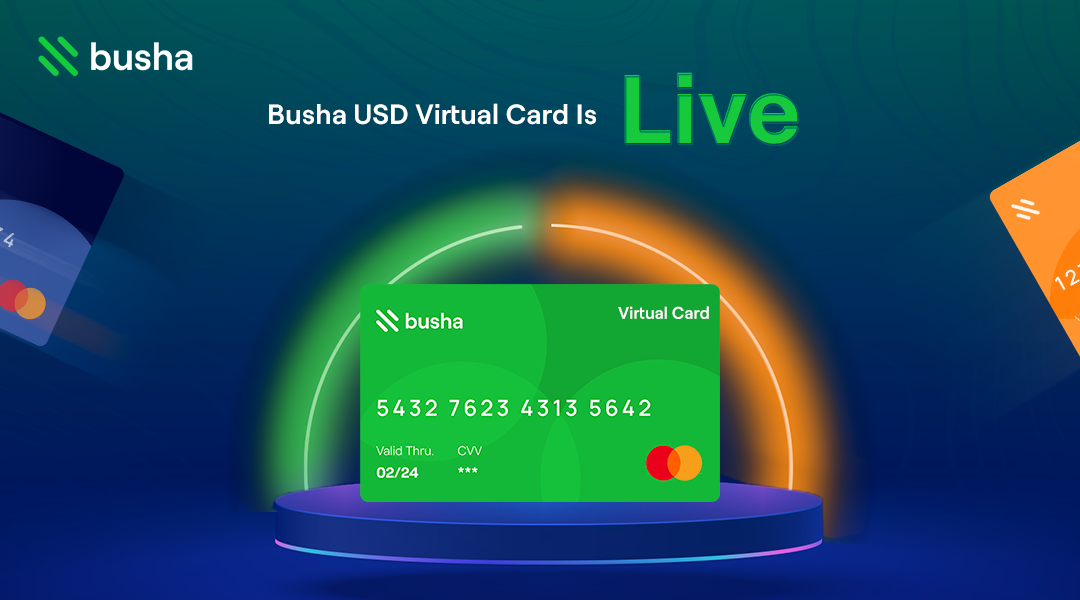 Hello, Busha Cards - A new way to spend your crypto
On today's episode of trending crypto news, we are super proud to announce the launch of our USD virtual debit cards! This has been a long time coming, and it just feels so good to introduce you all to true freedom. Living with ease, at your pace and how you want, because the soft life looks good on you!
So, picture this:
It's a Saturday night, the month is winding down, and you've settled in with a cold drink and your favourite snack, ready to catch up on all you've missed on Netflix. Until you realise there's a problem.
Your Ex has finally changed their account password, and there you are, all snacks and no show.
You can't pay for a subscription with your Naira card. Plus, you don't have a dollar account with dollars in it. We know: the ghetto!
What if we told you there was a solution?
One that's convenient and gives you the power back.
A product that's available to everyone, everywhere.

The best part is that anyone can use this, whether you are a cryptocurrency enthusiast or not.
Hello, Busha Cards.
With our brand new unlimited USD virtual cards, that are easy to get and completely free of charge, you can now pay for all your dollar needs without the fear of a fiat card $20 limit or any limit whatsoever.
Yes, that's correct!
Enjoy this revolutionary way to pay and shop using your crypto!
The Virtual Card is a crypto-powered debit card funded from your USDC balance. It can be used for global payments online, anywhere in the world where a Mastercard is accepted.
If you're new here, USDC is a digital stablecoin pegged to the United States Dollar. This means that the value of 1 USDC is the value of $1. So, 1 USDC = $1. Simply put, USDC translates to United States Dollar Coin.
Our virtual card allows you to shop on your favourite websites like ASOS, Amazon, Ali Express, Nike, you name it! Also, pay for your LinkedIn, Spotify, Netflix subscriptions, etc., from anywhere in the world without hassle.
Indeed, the possibilities are endless.
How Does the Virtual USD Card Work?
First, you need to own a Busha account and a Bank Verification Number (BVN), which is necessary for customer verification. At this stage, users are required to request Early Access. Once granted, you can generate up to 10 USD virtual cards and fund them with a minimum of 2 USDC and a maximum of 5,000 USDC in one transaction, straight from your USDC Spot Wallet.
There are no daily, weekly, or monthly spending limits, and your card can hold up to 10,000 USDC at a time.
It's finally time for Nigerians living in Nigeria to say goodbye to the endless stress that comes with making FX payments.
To learn more about the USD virtual card, visit www.busha.co/card
How to get started.
Start living with ease. You've earned it. Join the early birds and get exclusive access here.
Join the newsletter to receive the latest updates in your inbox.