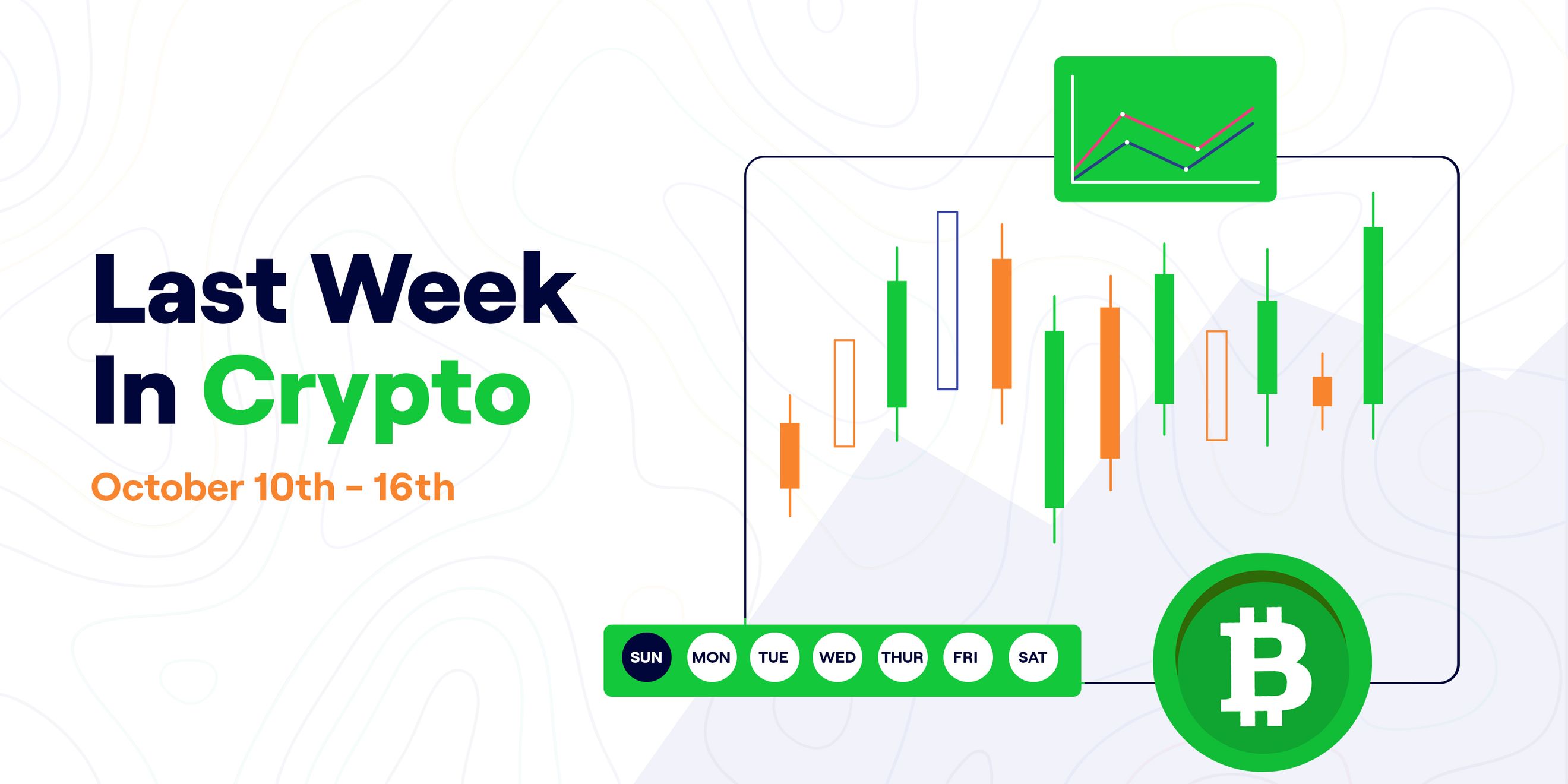 Last Week In Crypto - October 10th - 16th
Hey guys, 'c'est moi' again and WELCOME to another edition of our weekly crypto round-up, we got entertaining news as well with some exciting in-house announcement to spice up this new week. Have a great time digesting this week's article!
BINANCE FLIES WITH CRYPTO
The users of Binance, a cryptocurrency exchange platform, can now book a flight in the company's latest partnership with Crypto Air. Users can now directly pay for flight tickets directly from their crypto wallets.
This new feature is made possible because Binance has been a major investor in Travala (a travelling agent platform, similar to booking.com)
Currently, the flight tickets can only be paid in Binance Coin, BNB. Binance users can now access over 9000 locations and over a thousand airlines.
Using crypto to travel is a new trend in the aviation industry, and it's moving in a "fighter jet" way (pun absolutely intended). For example, Vueling, an airline giant, has partnered with Bitpay to allow the use of crypto to pay for flights in 2023. This means Vueling will be the first low-cost airline in Europe to accept crypto payments through Universal Air Travel Plan (UATP) technology, the global payment network for the airline industry.
Emirates also announced something similar a few months ago but is yet to reach an official agreement to add Bitcoin as a payment platform.  

FOOTBALL FAN TOKENS
The concept of fan tokens is becoming a huge deal in the cryptocurrency marketplace. It started as a subsidiary of the meme coin that shook the world in 2020, but eventually took on a life of its own. These tokens have been making the rounds recently so why does it seem to be suddenly gaining traction as the year wraps up?
The World Cup competition is arguably the most important and watched sporting competition in the world. One of the reasons is the upcoming FIFA World Cup coming up this November. In 2018, the Russia World Cup alone drew an unprecedented 3.5 billion viewers worldwide, and this year's Qatar World Cup is expected to draw close to 5 billion viewers worldwide.
​The sheer number of people tuning in to support their favourite country is a bull case for digital assets. A good number of them are expected to see a massive upside when the World Cup begins in November. According to CoinMarketCap, countries, like Portugal, have seen an enormous surge in the most searched cryptocurrency coin in the world. So, I believe this may be an investment opportunity for you to look into for a quick return. But take my candid advice with a pinch of salt.
My theory is that the bull run for the fan token will take off after the World Cup because this event will spike even more interest in football. For example, CoinMarketcap reported the fan token, Manchester City FC, has been the most searched cryptocurrency in the past few days.
So what do you reckon, are you interested in the fan token?

BINANCE BURNS OVER $500 MILLION
Last Thursday, Binance announced they had completed their last BNB burn for the third quarter, with an estimate that more than two million BNB coins have been burned. These were worth over $500 million.
Binance burned its tokens using the Pioneer Burn Program, a Binance auto-burn feature where a portion of the gas fee in every transaction is burned. Binance made the announcement that the burn program aims to remove half of the total tokens in circulation–that's approximately 100 million tokens. The first burn took place in the last quarter of 2021.
The auto-burn formula automatically calculates each number of burns per quarter as effectively developed by the exchange platform.
As of this article, BNB tokens worth $563.6 million have been effectively burnt. The price of BNB has almost gone up by 4% since the announcement.
We're all hoping for a bull run of the token. Is a significant pump incoming?

METAMASK ADDS BANK TO-CRYPTO
Metamask, a software crypto wallet, wants to add a feature where users can instantly load up their fiat currency to crypto through integration with Sardine, a San Francisco-based fintech firm.
Metamask made this announcement via its parent company, ConsenSys. It says users can now fund their crypto wallets via bank transfers instantly instead of waiting for traditional fund transfers to clear. They also argued that instant ACH (or Automated Clearing House network) transfer is faster and better via Sardine, than another method for most users.
ACH transfer is an electronic fund transfer between banks and credit unions. It's used for all kinds of fund transfer transactions, including direct deposit of paychecks and monthly debits for routine payments. Simply put, using a credit/debit card is less flexible because they have monetary limits, and some are due to declined cards or full-on transactions.
This new feature will allow users to turn their cash into crypto coins, with more than 30 tokens available on the Sardine network. But the instant conversion of bank to wallet raises an eyebrow for users' fund safety. There are understandable questions about Metamask building a room for fraud and monetary risk. Although, Metamask believe their in-built security system will detect fraud, no existing software has been made available specifically for this new feature.

BUSHA INTRODUCES DIRECT CRYPTO SPENDING
Busha, a leading cryptocurrency exchange company in Nigeria, has launched a feature that allows users to buy airtime or data with their crypto. As announced via Busha's Twitter account, Busha Spend is a mobile-friendly feature that allows users to buy airtime or replenish their local internet services on the Busha app. It has garnered excitement amongst its users across various social media platforms.
The exchange platform is known for taking innovative steps towards their end users' comfort. Busha's users can now at any time, anywhere and on any network, purchase any amount of airtime and local internet service via their crypto wallet with crypto coins. As of this moment, Busha has made only three coins available for this new feature: Bitcoin, Ethereum and Tether.
This new product is a way to bring crypto into everyday e-transactions. While more features like buying goods and services product may be coming up soon, this is a landmark product release. Busha has arguably been at the frontline in Nigeria's battleground of cryptocurrency adoption. They are working to give provide their users with seamless services and an enjoyable journey.
With Busha Spend, you no longer have to worry about bank delays and can load up your mobile phone while trading in 4 easy steps.
To get started, click on the link.

MANGO MARKET EXPLOITER RETURNS FUNDS
Last week, Mango Market, a decentralised crypto exchanger company, announced that $114 million was drained from its blockchain due to some market manipulation. People deemed the action illegal and called it exploiting, with some of these 'exploiters' claiming their activity was legal and highly lucrative. One of them is Avraham Eisenberg, who announced, via a series of tweets on October 15th, that he was one of the exploiters of the $144 million fund.
However, in a plot twist, he also announced that he'd return $63 million to the Mango Market. He maintained that there was no criminality in what he and others had done. But this is not the first time he's been accused of attacking exchange companies; there have been reports of him on similar attacks.
Mango Market, a Solana-DeFi community, announced on Twitter that its decentralized autonomous organization (DAO) community would vote in the coming days to decide how to split up the returned funds.  

13% OF CANADIANS OWN BITCOIN
The Bank of Canada has released its 2021 Financial System Review. Despite its impressive statistics, a specific number of crypto assets in the country caught my attention. According to the report released by the National Bank, 13% of Canadian citizens owned Bitcoin in 2021, a significant upgrade from the previous 5% announced in the last year's report in 2020. This shows Canadians' growing interest in cryptocurrency assets.
According to the Bank of Canada, two primary reasons can be linked to this development. One is the widespread increase in the savings and wealth of Canadians during the pandemic. Another is that the fintech industry in Canada began to offer crypto assets as an investment choice, alongside the company's traditional products. This is believed to have expanded the platforms for citizens to gain an interest in cryptocurrency, especially Bitcoin.

Although Bitcoin's popularity is growing among Canadian citizens, data by the National Bank reveals that most citizens who own Bitcoin aren't well versed about the coin.
Despite this, the report further projected an increase in this percentage by its 2022 report.
I wonder what the statistics look like in Nigeria.
MEME OF THE WEEK
POV: When you try to rob a crypto enthusiast.

https://twitter.com/redcryptomemes/status/1579811553028743174?s=46&t=es6466mmEdUfd0M5RXpeRQ
On today's episode of 'Bolu Answers'...
"Cryptocurrency Wallet Vs Cryptocurrency Exchange, which is safer to keep crypto assets?"
We'll discuss each of them briefly; however, whatever you pick comes down to personal reason and choice. Cliché but stick with me. It's not false when people say crypto can be complex for beginners, because it requires getting familiar with a lot of terms and doing a lot of research, (which I can imagine most of us dislike). Eventually, cryptocurrency users must choose between a crypto wallet or an exchange. But understanding each will help you make that decision.
Let me explain…

WHAT'S A CRYPTOCURRENCY WALLET?
A cryptocurrency wallet is a store of a user's public and private keys which often also provides an easy-to-use interface to manage crypto balances. They also support crypto transfers through the blockchain. Users will have to opt-in for either a hot wallet or a cold one, both known as non-custodian wallets. The former is preferred for convenience while the latter for better security. Here's what I mean..
A cold wallet runs off-line on a hard disk or an off-line software and thus, isn't connected to the internet, ensuring safety from hacks. But this has an obvious caveat: you'd need to carry it everywhere. You're solely responsible for keeping your wallet safe. The moment you lose your seed phase, you lose your crypto forever.
On the other hand, a hot wallet is connected online, meaning you have easy access via your mobile or desktop device. Popular choices from companies like Ledger, Trezor and SafePal let you authorize transactions from a physical device.
So I'd advise these wallets for those who plan to trade infrequently. Think of it as a means to safe-keep your assets for an extended period.

WHAT'S A CRYPTOCURRENCY EXCHANGE?
This is the most popular of the two ways to keep cryptocurrency.
Sometimes referred to as a Custodian wallet, this is essentially a marketplace (website or software service) where you can buy, sell or trade crypto coins. Exchanges have crypto wallets hosted on their server websites which you can only access when you log in. The company stores the crypto assets in a combination of hot and cold storage.
However, because you only have access to your wallet through an account, the risk of being hacked is higher than a non-custodian wallet. This can be a major concern. To combat this, some popular exchanges have insurance that promise to reimburse you if they're hacked. In addition, you can contact customer service if you forget your login information (unlike if you outrightly lose your private key on a cold wallet). Some of these services are known for their prompt response and specific protocols that help retrieve your account.
Not to forget that a crypto exchange is way easier to set up to use and it allows for quicker trading of cryptocurrency assets.

THE VERDICT
So as I mentioned earlier, you can decide to use any of these to safeguard your crypto coins and assets. But personally, based on simplicity, if you're a daily or regular trader, a crypto exchange is what's best for you. If you, however, want to keep millions worth of cryptocurrency assets, then a crypto wallet is probably your best option as only you would have the access to your private and public keys.

My recommendation? Busha, an excellent cryptocurrency exchange platform, with great services that makes regular crypto assets trading easy-peasy for its users. Highly recommended! I mean, have you seen the simple interface?
Join the newsletter to receive the latest updates in your inbox.