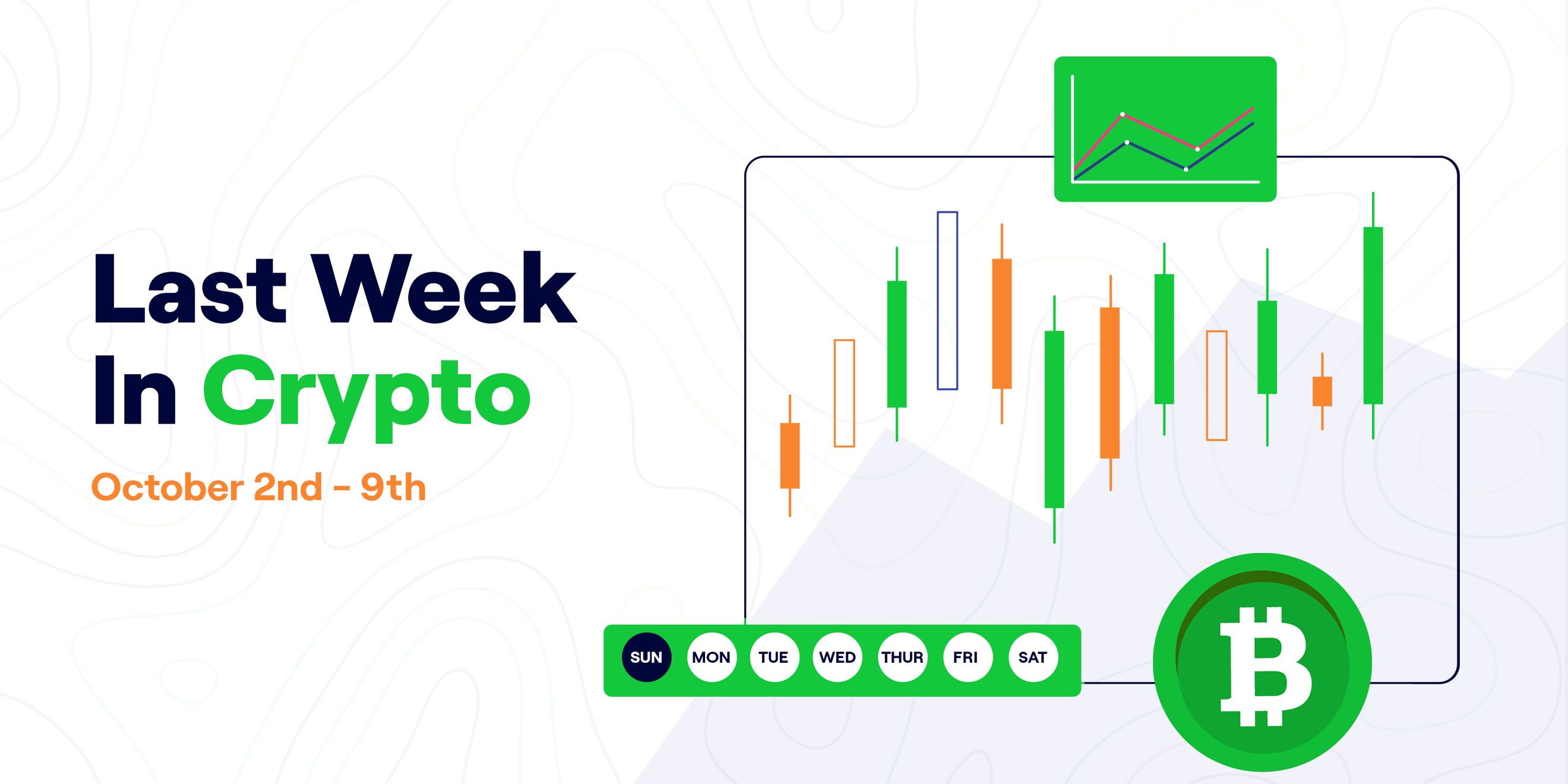 Last Week In Crypto - October 2nd - 9th
It's me again and a big WELCOME to another edition of our crypto round-up as things happen every second in the crypto-verse as I like to call it. From the mid-week BNB hack to both Mastercard and Visa making huge moves. I've filtered through to bring in the best news for you guys. Have an amazing read!
SEC SUES KIM KARDASHIAN
First off, don't ask me if we'll ever live in a time when the Kardashians won't be in the news. This time, Kim, arguably the most popular of the Kardashians, has been sued for illegally touting a coin. Kim Kardashian has been fined $1.26 million for the illegal promotion of a cryptocurrency called EthereumMax, or EMAX, in a settlement agreement with the SEC (Securities and Exchange Commission).
According to data from CoinMarketCap, the coin (which launched last year in May) started with an initial trading volume of $16.1 million. It then grew to $106 million in market value after it was promoted by Kim Kardashian. But she's not the only one who's been sued by the SEC. Famous boxer, Floyd May Weather, and NBA star, Paul Pierce, are among the celebrities that helped to hype up the coin and have also been sued by the SEC.
Now, this is dicey. In order to sue a celebrity for promoting a crypto platform, legal representatives need to show evidence that the accused was paid directly from the cryptocurrency.
So instead, the SEC's ruling is that she failed to disclose she was paid $250,000 to publish a post on her Instagram account about EMAX tokens. The total money she's been fined is $260,000 in earnings from promoting the cryptocurrency, and interest racking up to a million dollars. Kardashian isn't the first celebrity to attract the attention of regulators for involvement in cryptocurrency. In 2018, the agency settled charges against music producer DJ Khaled for failing to disclose payments he received for promoting investments in digital currency.
EMAX's price has since fallen by 3.3%, which is equivalent to 0.000000004246 cents, according to CoinMarketCap.
"This case is a reminder that, when celebrities or influencers endorse investment opportunities, including crypto-asset securities, it doesn't mean that those investment products are right for all investors," SEC chairman Gary Gensler said.
MASTERCARD LAUNCHES CRYPTO SECURE
Mastercard announced on the 3rd of October that it's launched a new tool called CryptoSecure: a software tool for banks to identify fraudulent activity associated with digital asset businesses.
The software comes from blockchain forensics firm CipherTrace (acquired by MasterCard in 2021). This new platform aims to allow banks to recognise and prevent crypto fraud on their various networks. With MasterCard having at least 2,400 crypto exchanges using its network, this move comes from using cryptocurrency in mainstream finance away from their enthusiasts' communities.
Crypto Secure uses a 'sophisticated AI' based software system, with or without the blockchain system, that will help combat crypto frauds globally. CipherTrace, the company running Crypto Secure, already tracks the activity of over 900 crypto assets on different blockchains. Its products include CipherTrace Traveler, Sentry, Inspector and Armada, which are used as investigative tools to handle other risk analysis functions. Its primary markets have been financial institutions and law enforcement agencies.
Centralised payment platforms like Visa and Mastercard have made crypto payments more mainstream. Visa reported a revenue of over $1 billion last year alone. This has attracted a lot of fraud and crime to the industry, and these platforms are building tools to reduce these fraudulent activities. According to data published by Chinalaysis, over $14 billion was moved to fraudulent wallets marking the all-time crypto crime in history.
UAE WEB3 ECOSYSTEM IS MEGA
The United Arab Emirates (UAE) government has taken constant positive steps towards cryptocurrency in recent years. A new report by Crypto Oasis Platform noted that the web3 ecosystem of the UAE has over 1,450 active organisations with 7,000 individuals. It also reported that the Dubai Multi Commodities Centre (DMCC) has recently registered 450 native organisations, which is more than 50% of all native blockchain platforms in Dubai. This has made UAE one of the fast-growing countries for web3 and emerging as a cryptocurrency and blockchain front.
According to the report, there are mainly two types of web3 projects: native and non-native blockchain projects. Native blockchain projects are based on the native decentralised technology, while the non-natives are not. Currently, work towards native blockchain projects take the lion share with 65% of efforts.
Globally, UAE is emerging as a voice for blockchain and cryptocurrency. They have created a somewhat safe landing spot for crypto platforms worldwide and are fast becoming a hotspot for anything crypto- or web3-related. This has encouraged crypto platform giant, Binance, to create various projects in Abu Dhabi, Dubai, and other neigbouring regions.
HUGO BOSS DABBLES WITH NFT
The creators of Imaginary Ones, a delightful 3D animated NFT collection, have partnered with fashion giant, Hugo Boss, to launch their brand new NFT line. This is the first NFT collection of Hugo Boss and their first introduction into the metaverse. This project will offer 380 degrees of experience in the metaverse.
The NFT collection is expected to launch in early November 2022 and will aim to encourage everyone to connect and own their emotions. The collection will be named 'Embrace Your Emotions' (EYE) and include 1,001 NTFS with 3D animations. It's believed this holistic experience will bring a refreshing new look to the mega fashion brand. It will also be the first Asia-based NFT project partnered up with a global fashion brand.
The EYE NFT holders will receive a 10% discount valid for ten months on Hugo Boss stores worldwide. This is a new stride taken in the fashion industry towards web3 and the metaverse. It shows mega-sectors are beginning to notice the position cryptocurrency is playing in the modern financial system. No one wants to be left behind.
FTX PARTNERS WITH VISA
FTX, a cryptocurrency exchange platform, has gone into a 'brotherhood' partnership with payment platform giant Visa. On Friday, Visa announced a long-term collaboration with FTX and West Realm Shires Services Inc. to roll crypto debit cards in 40 countries. The debit card is already linked to users' FTX accounts. These services currently exist in the US and are now being launched globally in 40 countries with a major focus on Latin America, Asia and Europe.
This debit card allows users to pay for goods and services using their FTX crypto wallets at over 80 million merchants worldwide that accept Visa as a paying platform. Perhaps most notable is that FTX crypto Visa cardholders will not be subjected to processing fees while using the card.
When I say crypto is taking over centralised financial services, take me very seriously.
TON LAUNCHES P2P TRADING ON TELEGRAM
As it stands, Telegram is the most popular social media platform for cryptocurrency traders. The Open Network (previously Telegram Open Network) has built an in-app wallet that allows P2P trading between users, via a cryptocurrency wallet bot. With this new addition, users can conduct cryptocurrency transactions with one another, while the service functions as a third-party guarantor.
Now, instead of using crypto coins with a different address, users can now send and transact Toncoins using the specific username of their Telegram contacts. The wallet bot functions almost as a bank, where credit or debit cards can be used to buy and sell Toncoins on Telegram. The Toncoin uses some currently available fiat currencies like Dollars (USD), Euros (EUR), Ukrainian Hryvnia (UAH), Belarusian Rubel BYN, and Kazakhstani Tenge (KZT).
Will Telegram be the Twitter of the cryptocurrency ecosystem?
BINANCE HACKED!!
The biggest story coming this week, Binance is a recent victim of the concurrent hacks happening around the cryptoverse lately. This time, it's a hack worth over $570 million.
But that's not the strangest part of this story. Last Friday, Binance reported a flaw noticed by unknown hackers on their BNB chain crypto token, which allowed the hackers to mint 2 million of the company's token (worth over $570 million).
Here's where it gets confusing: the money wasn't actually stolen from Binance. If anything, it was "created" out of thin air due to a flaw in the security of Binance.
Nonetheless, this flooded the market with BNB, thereby reducing the value for legitimate coin owners. While all this was happening, it seemed these hackers were about to move over half a billion dollars away.
But it only gets more complicated.
It seems these hackers met their waterloo as soon as they got wind of their success. Elliptic, a crypto tracing firm, reported that the hackers immediately started selling off their spoils for other cryptocurrency in an effort to scatter them. So, they were able to purchase Ethereum worth $53 million, and they also traded their BNB for other coins, like Tether and USDC.
However, those were hurriedly frozen because they used fiat currency which could be more centrally controlled. Binance, on their end, did something incredible: they temporarily shut down the BNB blockchain to stop the hackers' BNB new treasure movement.
Of course, this made a mess of the remaining funds.  At the end of the day, the hackers could only move $53 million in Ethereum (which is about 10% of the total spoil).
I have a question though: is it really decentralised if an exchange company can totally shut down or resume a blockchain system? Isn't that more like the same way traditional financial institutions work?
MEME OF THE WEEK
WE MAY ACTUALLY NEED A THOUSAND SHOOTING STARS TO MAKE THAT POSSIBLE AT THIS POINT.

https://twitter.com/redcryptomemes/status/1576912452490592256?s=46&t=5eI-LKIBm1evkXZ8iK6Z7A

Today's 'Bolu answers' episode is here, and this won't be long. The question today is:
WHO CONTROLS BITCOIN?
Exciting question.
You're already wondering if you even understand the word "decentralisation" again. Whelp! The famous statement "no one controls Bitcoin" is a fallacy. The truth is that Bitcoin is owned by nobody and also owned by everybody simultaneously. Don't worry; Bolu's not trying to confuse you. Stay with me…

Marriam-Webster defines "decentralisation" as the dispersion or distribution of functions and powers, a decentralisation of powers specifically, government. It's also the delegation of power from a central authority to regional and local authorities. In essence, this means the only thing we removed was the role of a central control and hand it over to the users.
So this is how it works: the control of Bitcoin is run by the thousands of people who run the Bitcoin software (called nodes). Therefore, no one single-handedly controls Bitcoin. Instead, everyone gets a shot. Anyone is free to develop the Bitcoin software and decide to use any version they please.
However, users must come to a consensus on which software is most compatible and chose.  Thus, a Bitcoin consensus is chosen by the majority of votes. Yes, a vote is taken, and the majority wins. The control is from the majority of users that choose the software upgrade necessary. But if you oppose this change, you can easily switch networksc(called Bitcoin forks).
So maybe you've concluded it's the developers that control it, or even the miners. But at the end of the day, the majority carries the vote. A more dependable and usable network is picked with no specific user given preferential treatment, which is how the decentralised universe works.


Join the newsletter to receive the latest updates in your inbox.