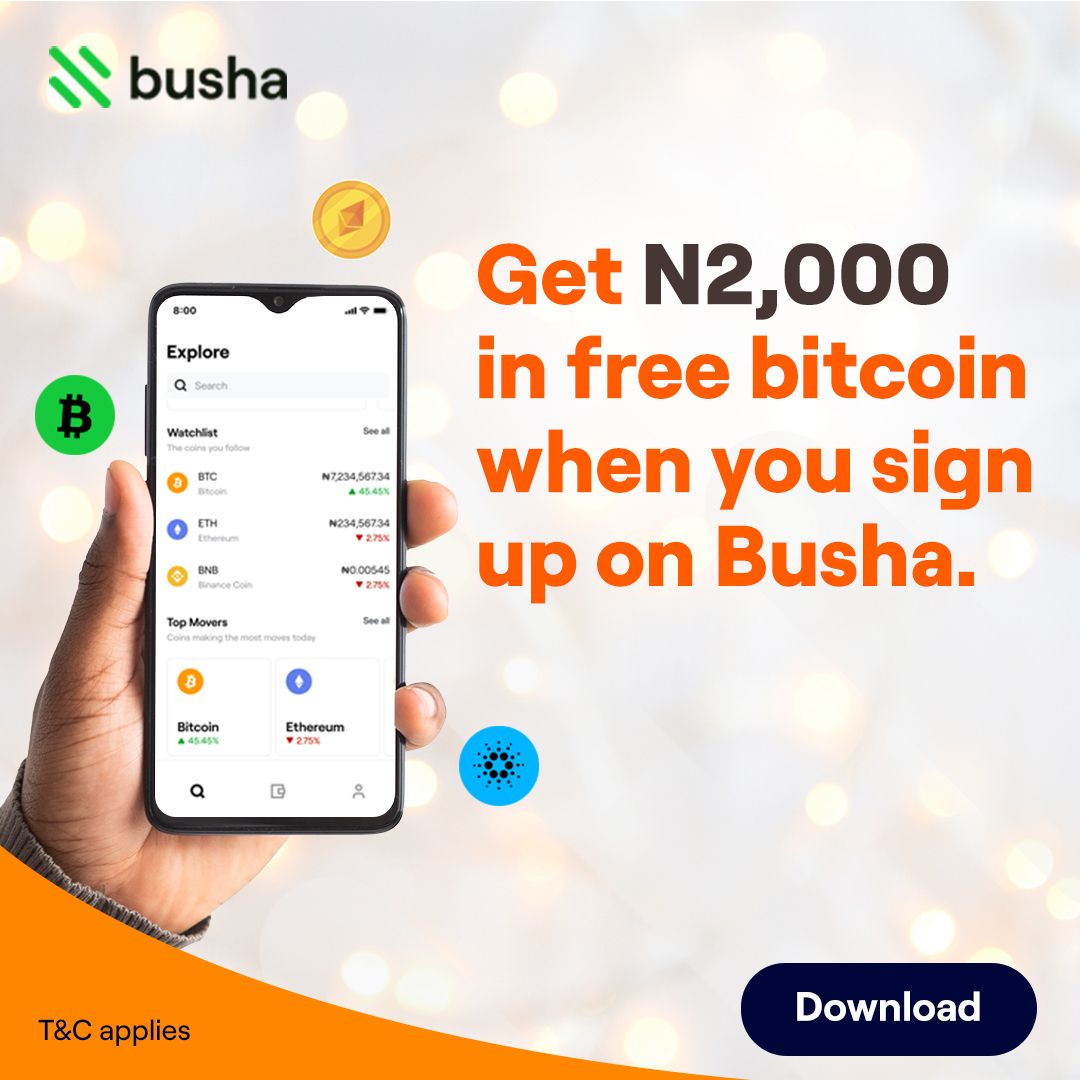 [NOW CLOSED] #GetBusha Campaign: Get N2,000 in Free Bitcoin When You Sign Up on Busha!
THIS CAMPAIGN IS NOW ENDED AS AT 9AM GMT 04/01/2022.
Download the Busha app to be the first to know about future campaigns. Happy trading!
*************************************************
It's the holidays! To celebrate and help more Nigerians own their first crypto, we will give N2,000 in free Bitcoin to our new customers.
As a part of our mission to onboard as many Africans as possible into the crypto economy, we present #GetBusha.
To qualify, new users only need to download the Busha Android or iOS app, sign up, and submit their KYC documents for verification.
To earn additional rewards, our existing customers can refer their friends and family, and they both get N500 after the new user trades up to N10,000.
Terms:
A new customer is anyone who does not have an existing account on Busha at the time of this campaign.
The sign-up bonus is capped at N2,000 per customer.
Only customers who sign up by downloading the mobile app on Android or iOS are eligible for this offer.
New customers have to complete the KYC process and get Level 2 verification to be eligible.
Please note that Level 2 verification is completed in 3-6 hours.
This offer is only available to new users in and from Nigeria.
We will automatically credit customer wallets with bonuses on completion of KYC.
This offer is available to the first 25,000 qualified customers only.
Busha reserves the right to disqualify new customers deemed as pseudo-customers, displaying sign-up manipulation tricks, bulk account registrations for additional bonuses or other fraudulent attempts.
We reserve the right to interpret who qualifies as a qualified customer.
This campaign is a fun way to get more people excited about crypto, and we hope you enjoy participating. To our existing #BushaFam, please share this with your friends and family, and get them started on crypto.
REMEMBER: ONLY NEW CUSTOMERS WHO SIGN UP VIA THE MOBILE APP STAND A CHANCE.

Follow Busha on Instagram and join our crypto community on Telegram.
Join the newsletter to receive the latest updates in your inbox.