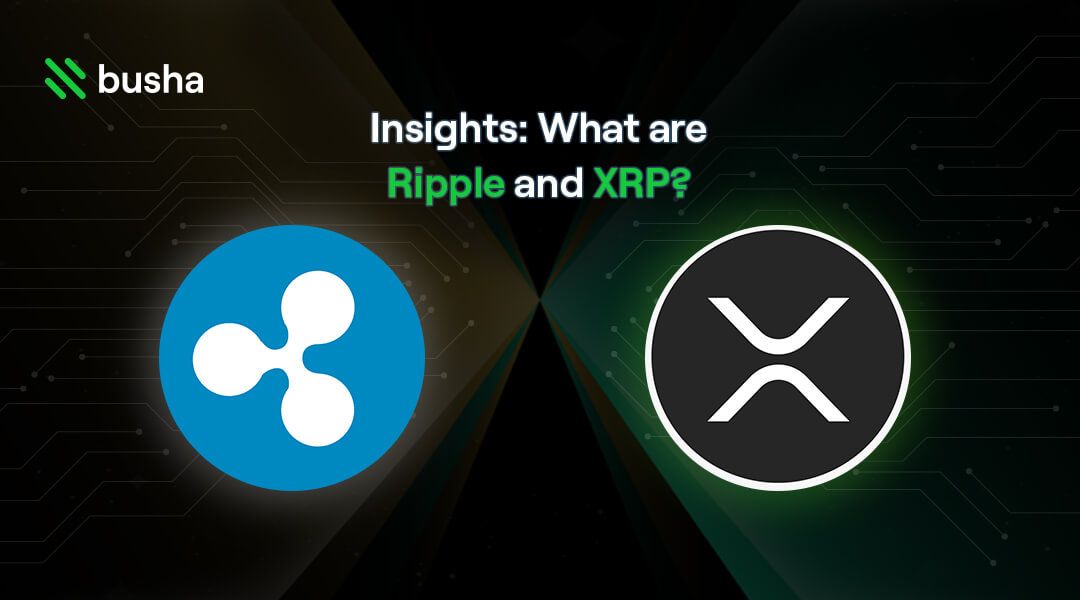 Insights: What are Ripple and XRP?
They might initially seem one and the same, but Ripple and XRP are in fact birds of the same feather who flock differently to achieve a single aim of seamless, fast, and secure financial transactions globally.
Ripple
Founded by Chris Larsen and Jed McCaleb, Ripple is a payments settlement system and currency exchange network capable of processing financial transactions around the world. Ripple was created to stand as a trusted bridge connecting two parties in a transaction with the network's immense speed at carrying out transactions compared to many other blockchain networks.
XRP
XRP(also called ripple) is a digital cryptocurrency similar to the likes of Bitcoin, Ethereum, Solana, and many others. It is the native token of the Ripple(XRP) Ledger used to validate transactions and power the Ripplenet.
How does XRP work?
XRP is a unique cryptocurrency only a few enlightened, banks, high-risk investors and crypto hodlers fall in tune with. With a super-fast network, very low-cost fees per transaction,  great investment potential and used many notable banks such as; Santander, Canadian Imperial Bank, Zip Remit, InstaReM, and Axis bank use the Ripple network to carry out quick payments, remittance, and foreign exchange transactions.
With a mission to provide banks with quick, low-cost and straightforward cross-border transactions, Ripple's blockchain and digital asset (XRP) uses a centralized system of transaction validation. The cryptocurrency employs a consensus system involving several bank-owned servers. Validators verify that proposed transactions are valid by comparing them to the most recent version of the XRP Ledger. A transaction must be accepted by the majority of validators to be verified and added to the network.
Unlike Bitcoin transactions that take between minutes to hours to validate due to its open-source network, centralized validators with the XRP ledger update their ledgers every 3 to 5 seconds while making sure they match other ledgers.

What is the difference between Ripple and XRP?
Ripple Labs is a profit-oriented company that helps promote and develop XRP coin, the software behind it (the XRP Ledger), and numerous other transaction-focused projects. XRP is the native coin of the Ripple network (RippleNet). The company however chooses to treat XRP and other products on the Ripple network as separate entities.
While banks and many financial institutions facilitate the use of the Ripple network and many other projects created by the company, the XRP coin is available as its native digital currency readily available to buyers, traders, and exchange platforms like Busha to invest and hodl.
Advantages of Ripple
Quick/Real-Time settlement: With an increased global need for more sophisticated, community inclusive, and cost-effective means for carrying out financial transactions, the Ripple network and its many products including; XRP, all fit the demand bill.
Low Fees: The average cost to complete a transaction on the Ripple network is 0.0001 XRP, currently a fraction of a penny.
Highly flexible exchange network: Asides from validating XRP-related transactions and serving other Ripple business products, the Ripple network also serves as a versatile facilitator for the exchange of fiat currencies, other cryptocurrencies, and commodities.
Utilized by traditional financial organizations: although the XRP coin is currently facing stiff challenges posed by the SEC, other products and business services offered throughout the Ripple network are widely used and renowned amongst big banks for its speed in transactions, cost-effective structure, and multi-level usage by different kinds of businesses.
The utilization of the Ripple network/ecosystem by many centralized and traditional financial groups gives the XRP a competitive edge over other cryptocurrencies. Broader utility in this case almost equates to better pricing, or does it??
Disadvantages of Ripple
Having great utility within traditional financial bodies and playing big in the cryptocurrency ecosystem could impact operations, regulatory practice, and price bargains.
Centralized control: looking at the emergence of blockchain, one philosophy connects several networks and cryptocurrencies, Decentralization. The Ripple network as well as the XRP coin don't operate on this philosophy, hence its increased adoption by many traditional financial institutions, as well as regulatory restrictions. The use of "trusted validators" to verify transactions also limits the number of individuals or systems working to maintain integrity, and inclusiveness and increases security risks.
Regulatory restrictions: even though Ripple as a company has tried separating XRP and Ripplenet-based products, they still strongly have their resources dictating the rules for supply, pricing, and utilization. In this light, the company currently faces a lawsuit by the Securities and Exchange Commission (SEC) in the United States. The commission
According to SEC, the fact that Ripple dictates/control the supply of XRP equates to them registering it as security. The filed lawsuit took place in 2021 and has since led to a stagnant XRP coin price.  While a few hodlers have sold their assets as a result of fear, many others see big potentials to fall out after a resolution.
Pre-Mining: as earlier mentioned, Ripple controls the supply of XRP. It uses a pre-mining protocol that periodically releases a small amount of XRP at set intervals. Many investors/hodlers fear that Ripple will release too much XRP at some point thereby diluting the value of the cryptocurrency in circulation. Currently, Ripple owns about 6% of the total coins that have been created. 48% of the coins are held in reserve for scheduled releases. The rest has already been distributed.
Volatility: Similar to the philosophy of decentralization shared by all cryptocurrencies, XRP is highly volatile like its counterparts. The price per coin could favorably pump to the roof or plummet to the ground. As a crypto enthusiast/beginner, it is important to research and understand the level of risk a certain investment dishes before getting in.
In other words,
Go for it with keen eyes and prospects. Without doubts, the potential for both Ripple and its native cryptocurrency, XRP is huge! XRP currently ranks as the #6 cryptocurrency globally. In contrast to Ethereum, the XRP Ledger does not use a Proof-of-work consensus mechanism. It also does not work with a Proof-of-stake consensus mechanism like many of its rivals. Instead, it uses the XRP Ledger Consensus Protocol which makes up for its speed and cost-effective nature.
Join the newsletter to receive the latest updates in your inbox.