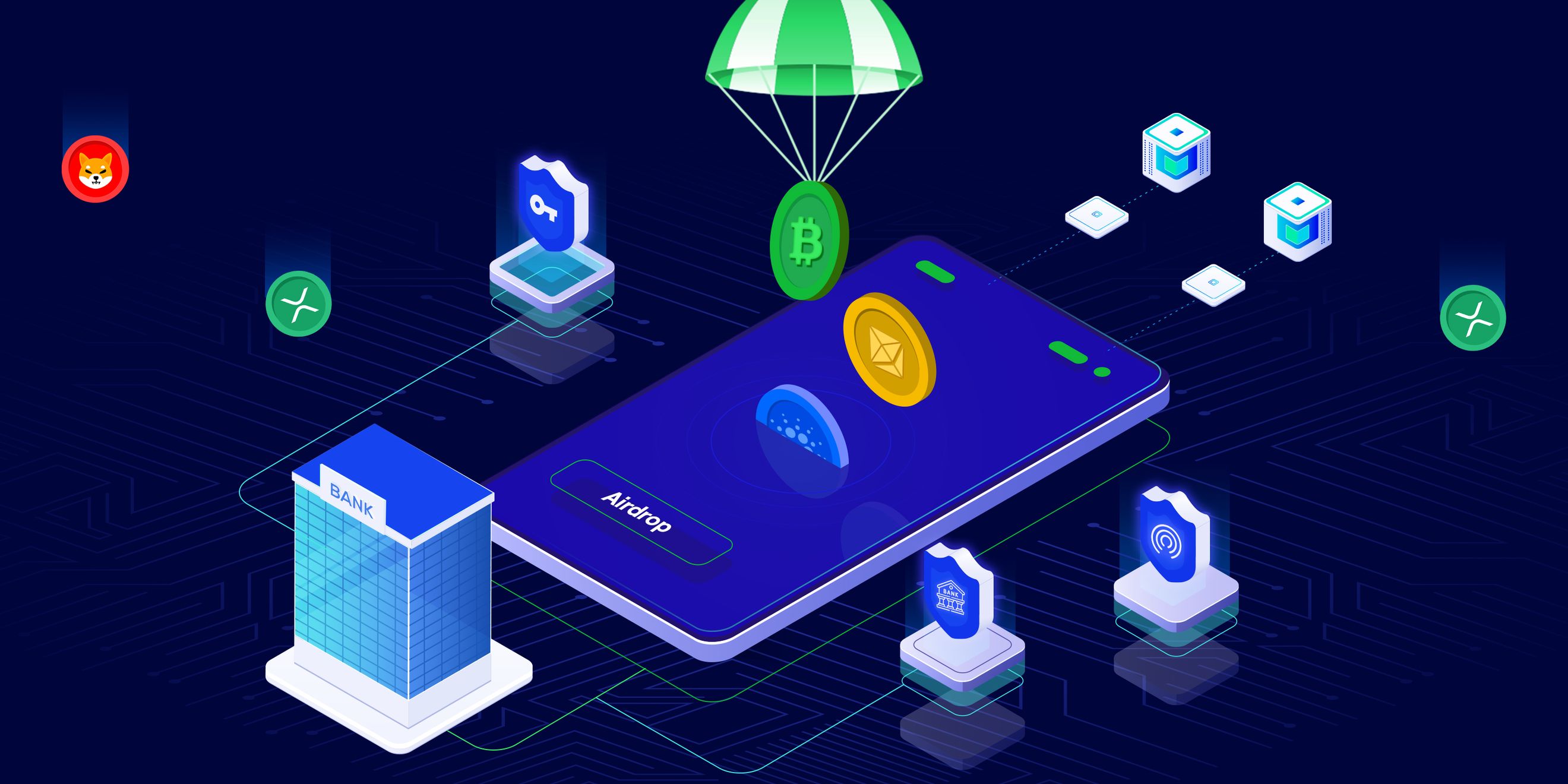 Cryptocurrency Airdrop: What It Is And How To Get One
Airdrops are basically giveaways in cryptocurrency. They are a marketing strategy used by crypto startups to promote their projects. Learn more about them and how to get them in this post.
A few weeks ago, an Arbitrum token (ARB) airdrop rocked the crypto space.
As many as 625,000 wallet holders were the beneficiaries of about one billion ARB tokens (which traded for as high as $8.67 per 1 ARB a point). It is reported that the average ARB airdrop recipient made about $2,350, with some making as much as $60,000.
Airdrops are cool ways to earn money in cryptocurrency. In this blog post, we will examine what crypto airdrops are and how to get one.
What is a Crypto Airdrop?
On its own, an airdrop is an act of dropping supplies, troops and equipment by parachute from the sky. In crypto, it is the act of dropping coins or tokens in wallet addresses, usually for free.
A cryptocurrency airdrop is a marketing strategy where small amounts of new coins or tokens are sent to the wallets of active blockchain community members for free or in return for a small service. Some of these services can be as simple as retweeting a post shared by the company issuing the token, following them on their social media platforms, creating an account or other minimal promotional tasks.
If you're familiar with the concept of "giveaways", then you should already get the idea. Essentially, an airdrop is basically a giveaway but in the cryptocurrency space.
When a new coin launches or is in preparation for the launch, crypto startups use airdrops as a tool to create a buzz around their project. The ultimate goal of a crypto airdrop is to promote awareness and circulation of a new token or coin.
So airdrops are not just given out for the sake of it. Much like every other giveaway, they serve a purpose.

A crypto airdrop should not be mistaken for an initial coin offering (ICO) because they both involve new currency projects but are different concepts. While airdrops don't require any investment from participants, an ICO is a method of generating money to fund the development of a project, usually by selling tokens to early supporters of the project.

Types of Crypto Airdrops
How To Get Crypto Airdrops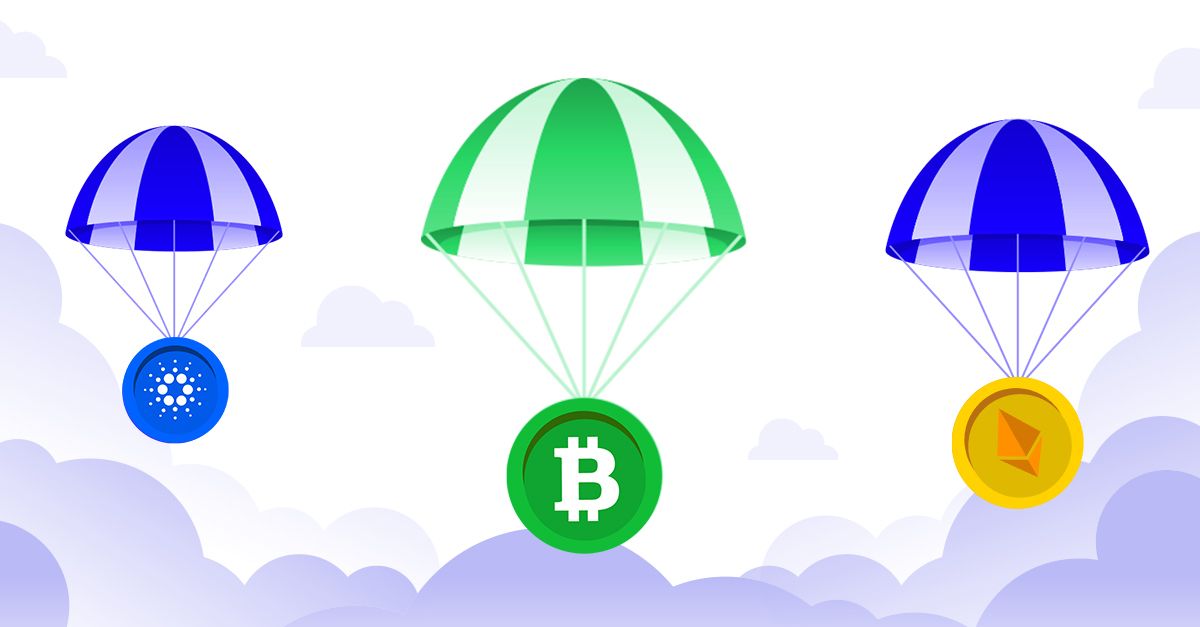 A private crypto wallet is the first step to being eligible for crypto airdrops. You must also be sure that your crypto wallet is compatible with the airdrop you're interested in.
For instance, a Solana-based wallet like Phantom cannot be used to claim Ethereum airdrops. In the same way, an Ethereum wallet like MetaMask cannot be used to claim Solana airdrops.
Once you have your wallet ready, you can now search the internet for news and information on upcoming airdrops. It is advisable to tread cautiously because of the outrageous number of scams in the name of airdrops.
Only trusted and reputable sites should be used for your search, and if then, further thorough research should be carried out before your participation.
Further tips:
You can search dedicated crypto airdrop websites (you will usually get a notification via email) - similar to signing up for promotions from a store you regularly buy from.
Also, check social media for the #airdrop hashtag and see if anything new has happened.
Explore cryptocurrency-related forums and news portals for mentions of a recent or upcoming airdrop.

When you find an airdrop you're confident enough in, you should already be able to tell what type it is.
Does it require you only to create an account? Does it require you to perform some promotional tasks? Or does it require holding a certain amount of a particular cryptocurrency?
You must find out and follow the eligibility requirements listed by the company.
Upon completing the tasks, you should receive the crypto airdrop in your associated crypto wallet on its official drop date. The official drop date would have been communicated and widely publicised.
Beware of Crypto Airdrop Scams
Much like giveaways, airdrops are prone to scams. It's even possible you know someone that has been scammed in a bid to "claim" a giveaway if that someone is not you.
Note that a crypto airdrop is primarily designed for promotional and marketing efforts. Hence, anyone that requires you to pay some amount before you receive it is almost certainly a scam.

Be aware that some scammers are very creative, so expect the money to be in the guise of a fee that you'll be required to pay to "unlock" (or some other creative word) your reward. Sometimes, what you are required to pay will seem meagre compared to the reward promised. It is still very likely a scam.
Also, any crypto airdrop that requires you to give up vital personal information (primarily financial) that can be used to hack your wallet and steal your assets should be avoided.
Never give out your private keys, pins or passwords in the name of crypto airdrops.
Do not connect your wallet to any unverified site.
Many airdrop scams rely on directing you to attach your wallet to a phishing website to claim an airdrop. They will often prompt you to connect your wallet using common and popular wallet services such as MetaMask and Trust Wallet.
Once you connect your wallet by providing your secret phrase or keys, the scam is complete. They now have unbridled access to your wallet to steal your assets whenever they please.
Companies often publicly communicate airdrops and other promotions. You can be updated about the project and upcoming events by following the project on social media, forums, or Discord. Also, Always be mindful that complex scams may replicate or imitate project social media profiles.
Do your own research.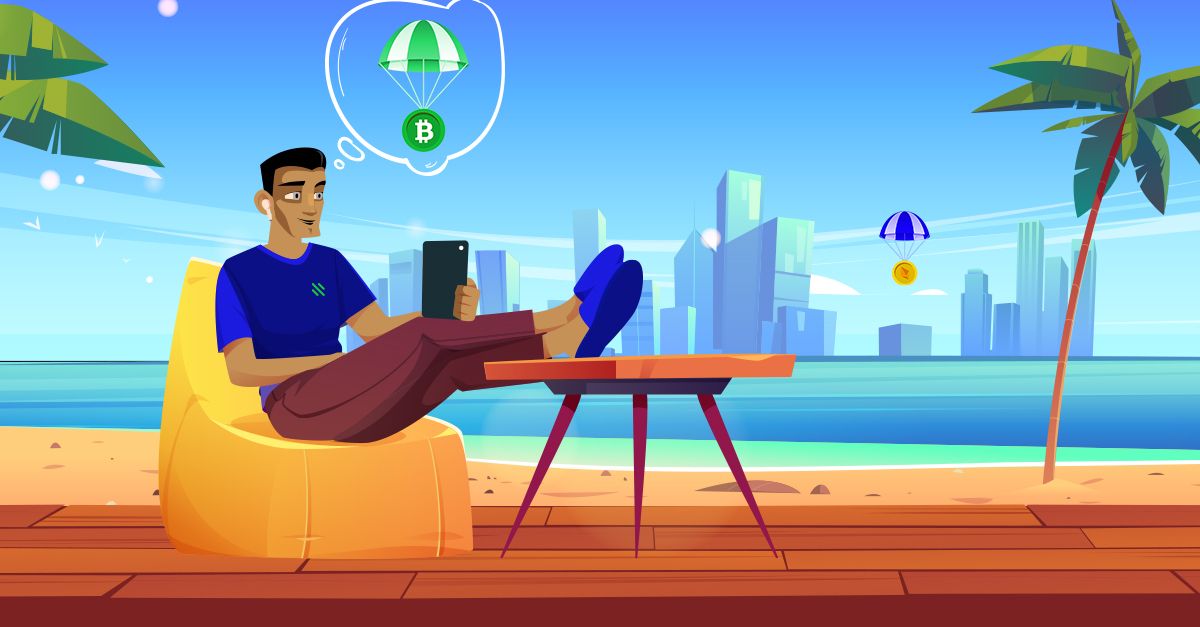 Note This
The major purposes of crypto airdrops are to create awareness and excitement about a new cryptocurrency and also to drive the adoption of the currency to get people to hold and use it.
Companies also use it to appreciate early/long-time users of their cryptocurrency.
This makes it one of the easiest ways to earn in crypto, especially as a beginner. Airdrops are one of the ways crypto newbies use to build their portfolios.
However, there are likely more scam airdrops than legitimate ones around, so you have to take caution and make sure to do your own research before participating.
---
Read Next:

---
Join the newsletter to receive the latest updates in your inbox.