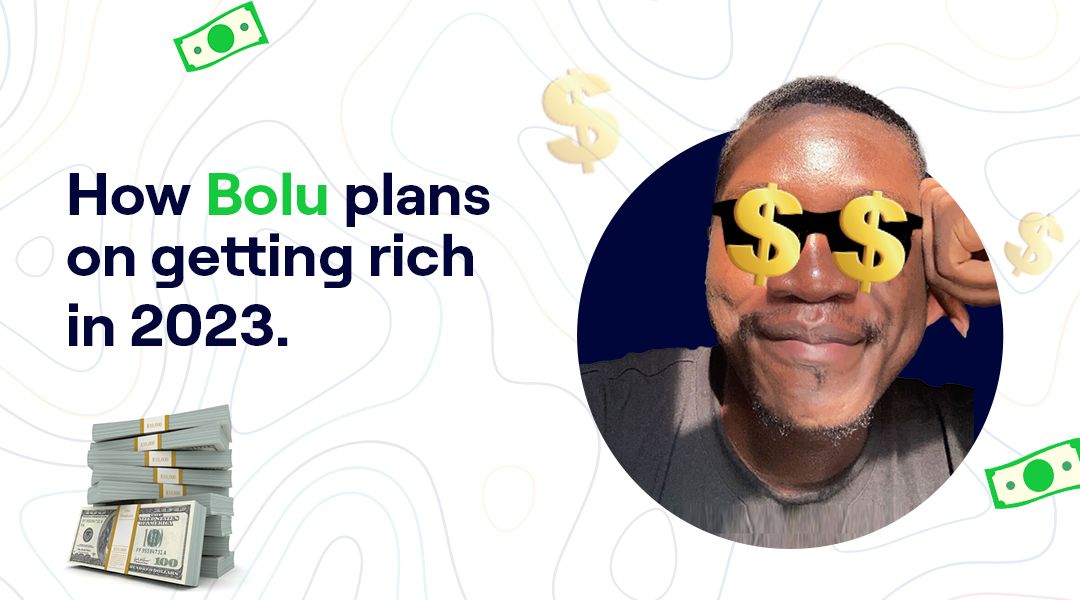 HOW TO GET RICH IN 2023
Bolu shares his strategies for getting rich in 2023 through investing in cryptocurrencies. He discusses the crypto market's recent surge and provides his top five picks for the best cryptocurrencies to buy: BTC, ETH, BNB, Dogecoin, and SOL.
Hi, my name is Bolu and here's how I plan on getting rich in 2023!

Looking back at 2022, being sceptical about cryptocurrency was understandable. We saw unprecedented events that raised questions about the future of the crypto market. Investors were worried about selling and trying to cut out losses or still holding on and waiting for a significant boom. Well, the significant boom definitely came.
In almost three months since the year started, the market has moved past the bearish run, and it looks all bullish at the moment. So, in 2022, I had seven crypto assets in my Busha wallet, and like many, I was recording losses with the earlier crypto dip.
But this was expected because I had studied the industry and learnt the trends over time. I knew to wait it out. (Also, because my god never flops) 😂
Anyway, the important question is, what's the best crypto to buy in 2023?
The trick isn't just buying and waiting; it's first in buying the right coins. I was a holder because I had invested in what I call "The Best Crypto Buys". This gave me a high level of assurance that once the market surge happened, my crypto assets would be on top of it. Not to say I'm a prophet, but here we are.
There's no gain in hoarding knowledge, so I will share my Best Cryptocurrencies to buy with you. Note it's imperative to study these coins and look at key factors that could drive price action and not rely solely on asset popularity.
---
What Is The Best Cryptocurrency To Buy In 2023? My Top 5 Cryptos To Buy Right Now
1. Bitcoin (BTC):
Market cap: $542.7 billion

It will not come as a surprise to people why BTC is number one.
Bitcoin (BTC) is a virtual currency designed to act as money and a form of payment outside the control of any one person, group, or entity, thus removing the need for third-party involvement in financial transactions. Aside from Bitcoin's voluminous market capitalisation in crypto, it's also the most popular and used as a legal tender in some countries and industries.
It was created in 2009 by Satoshi Nakamoto. Bitcoin runs on a blockchain like every other cryptocurrency and uses the popular Proof-of-Work (PoW) as a security means. It has become a household name by even those who know nothing about cryptocurrency. As of this writing, BTC is over 27k, a significant increase from the 16k it closed in 2022. BTC is hitting its highest peak so far this year, and if you look at the graph, there is an upward trajectory with Bitcoin.
Does the world's most popular digital currency look enticing enough to invest in? You can get started here.
As for me, ka-chingggggg! 💵
---
2. Ethereum (ETH):
Market cap: $222.2 billion

Ethereum is a unique cryptocurrency and the most crucial crypto coin after Bitcoin. Its market cap says all we need to know. But one critical feature of ETH I love so much is its use of Smart Contracts, which enables it to solve complex real-life cases, such as decentralised lending protocols and non-fungible tokens. Smart contracts are simply programs stored on a blockchain that run when predetermined conditions are met.
Ethereum is run on the Ethereum blockchain, making it easy to transact on the network. Founded in 2013 by Vitalik Buterin, Ethereum was first run on the blockchain in 2015. Also, Ethereum was first implemented on the Proof-of-Work(PoW) but later switched to Proof-of-Stake (PoS) in September 2022.
The latest project of Ethereum, called the Shanghai Hard Fork, will enable the withdrawal of staked ETH. The release date is slated for April 15. There are theories that if this project goes successfully, it will allow holders to flush the market with this staked ETH enabling them to sell. In April 2016, you could get an ETH for $11, but now it goes for $1, 771.60. This is over a 16,000% increase.

You guessed it! I invested in ETH too. Sadly, not when it was $11. If only! 🤔
---
3. Binance Coin (BNB):
Market cap: $53.4 billion

Binance, the most prominent global cryptocurrency exchange company, has its own digital currency: the BNB. BNB has two primary uses — one is that holders of BNB have meagre gas fees, cashback on all transactions on its virtual Visa cards, access to all launchpads programs, etc. The second is that BNB is the native token of every transaction on the Binance blockchain.
Founded in 2017, BNB has transcended all launch use cases. It can now be used for paying bills, flights, and online payments. It is popular because of its convenience and cheap and fast transactions. However, shadows are cast on its claim of decentralisation.
Finally, there are the quarterly BNB burns, which will reduce the supply of BNB until it hits the 100 million coins benchmark on its roadmap. By increasing the scarcity of BNB, the quarterly burns work in favour of long-term BNB holders.
Bolu is smiling in cash. 😁
---
4. Dogecoin (DOGE):
Market cap: 9.9 Billion

Initially created as a joke, Dogecoin has rapidly grown into the biggest and most popular meme coin ever made. It features a dog species-Shiba Inu as a logo. The story behind it is amusing.

It was created in 2013 by Software engineers Billy Markus and Jackson Palmer. The idea was a satirical cryptocurrency to make fun of Bitcoin and the many other cryptocurrencies boasting grand plans to take over the world. With the help of Reddit, it became an instant hit. It became more popular after its endorsement by billionaire and current Twitter owner Elon Musk. Musk even took a further step by making it a payment platform for Tesla owners.
Dogecoin currently sells for $0.07. A massive increase from the previous year's numbers. Are you interested in a meme coin?
---
5. Litecoin (LTC):
Market cap: $6.77 billion

Litecoin is one of my favourite coins and was created as a better codebase for Bitcoin. Just like Bitcoin, it uses the Proof-of-Work network for its transactions. It boasts a coin supply of 84 million, four times bigger than Bitcoin. Litecoin shares many similarities with Bitcoin because it's essentially a modified version.
Launched in 2011, Litecoin is often dubbed 'the silver to bitcoin gold'. It's relatively cheaper and faster than BTC, making it a better option for daily transactions. Although the technology behind BTC is a bit old, it has maintained impressive longevity.
Why Litecoin makes my list is the upcoming halving of Litecoin in August 2023. This is the third time since its launch it's been halved, as the last one happened in 2019. Litecoin currently sells for $93.47.
---
Conclusion
The cryptocurrency market is highly volatile and subject to various economic, regulatory, and technological factors impacting its value.
Conducting your own research, analysing the market trends, and evaluating the potential risks and rewards associated with investing in a particular cryptocurrency is crucial. You can follow our extensive guide on how to conduct your own research.
To start investing, Get Busha Now!
Anyhoo, so how do I plan on getting rich?
I'll give you a fun fact: the current surge in BTC prices has made over 67,000 millionaires.
This means that since the start of the year, over 67k people have been reported to have over $1m worth of BTC in their wallets. So, for starters *ahem*, I plan on joining that number. And as stated earlier, my coins have already started adding more coins to my wallet, and I plan on keeping it that way. For security purposes [haha, hashtag cries in broke*], I will not be revealing how good or bad my investment has been, but let's just say I'm glad I invested in BTC.
That said, I got to go count my coins now…literally.
Bye for now, and happy trading!
---
*P.S. all market cap and coin prices were sourced at 1:10 am, March 27, 2023. Also, this is an informational piece and not meant to be taken as financial advice.*
Join the newsletter to receive the latest updates in your inbox.