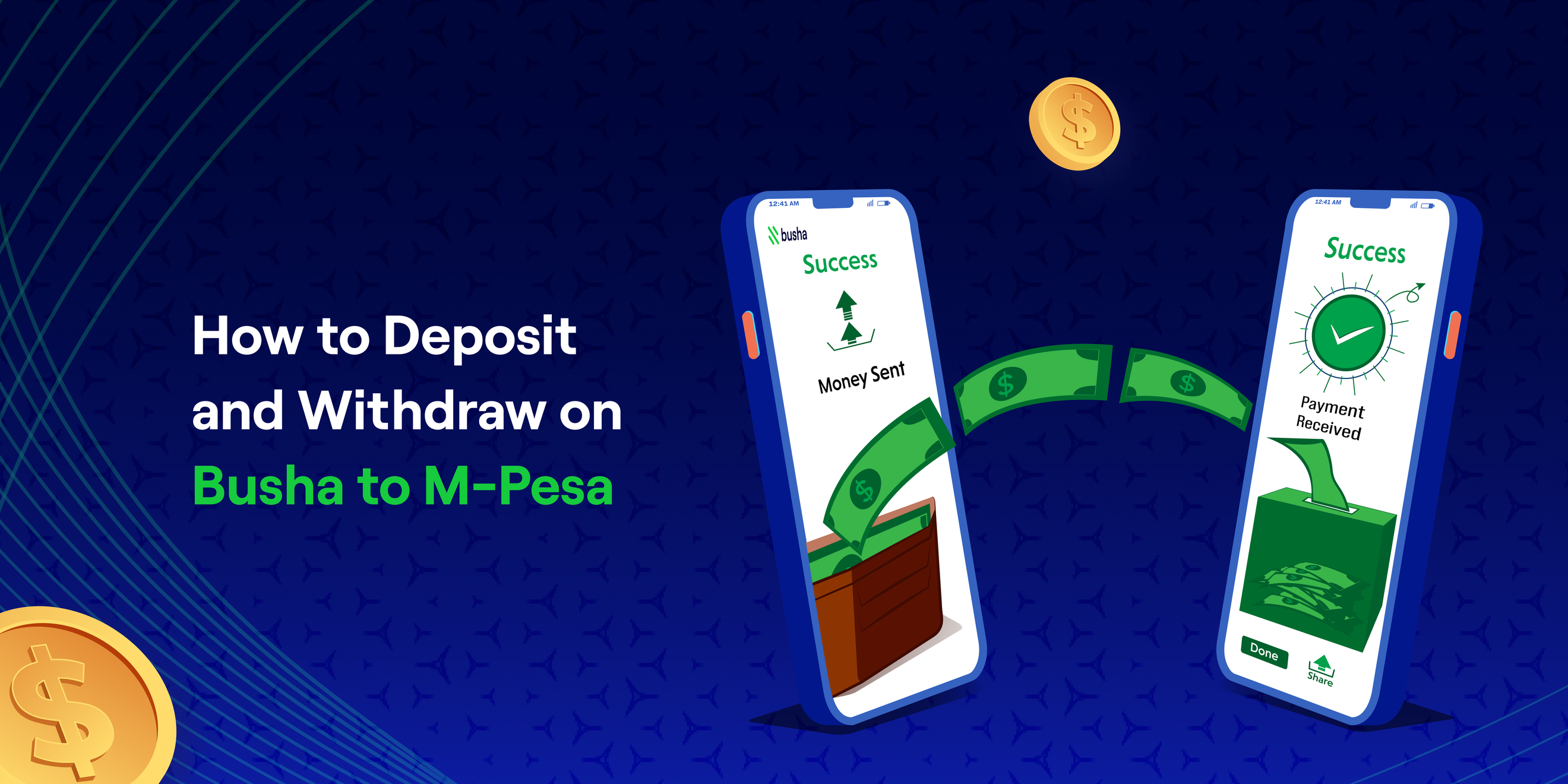 How to Deposit and Withdraw Money on Busha Using M-Pesa in Kenya
Introducing Busha, your gateway to the exciting world of cryptocurrency trading. As a well-established cryptocurrency exchange platform, Busha is committed to providing a secure and user-friendly experience for all your digital asset transactions. We're thrilled to announce our recent launch in Kenya, extending our services to a new audience eager to explore the crypto landscape.
What sets us apart is the remarkable convenience we offer through M-Pesa, Kenya's leading mobile money service. With M-Pesa, you can effortlessly handle deposits and withdrawals, making managing your funds on Busha easier than ever. In this comprehensive guide, we'll walk you through the simple steps to navigate this seamless process, ensuring you can easily and confidently harness the power of cryptocurrencies.
Creating and Verifying Your Busha Account
1.1 Signing Up for a Busha Account
To start with Busha, the first step is creating your account. Here's a quick guide on how to do it:
Visit the Busha website or download the Busha app from your device's app store.
Click the "Sign Up" or "Create Account" button to begin registering.
You'll be prompted to provide some basic information, including your email address and a strong password. Make sure to choose a secure password to protect your account.
1.2 KYC (Know Your Customer) Verification Process
Busha takes security seriously, and as part of the onboarding process, you'll need to complete the KYC verification. This step ensures the safety and integrity of the platform and its users. Here's what you need to know about the KYC process:
After creating your account, log in to your Busha dashboard.
Navigate to your account settings "Verification" or "KYC" section.
You'll be asked to provide certain personal details and documentation for verification. This may include your full name, date of birth, phone number, and a valid government-issued ID, such as a passport or driver's license.
Carefully follow the prompts to upload clear and legible copies of your identification documents.
1.3 Importance of Completing Identity Verification
Completing your identity verification is a crucial step for several reasons:
Security: KYC verification helps protect your account from unauthorized access and fraudulent activities. It ensures that only you have control over your funds and personal information.
Regulatory Compliance: Cryptocurrency exchanges like Busha must often comply with local and international regulations. KYC verification helps Busha meet these requirements.
Trust and Credibility: Verified users contribute to the overall trustworthiness of the platform, fostering trust among traders and the broader community.
Enhanced Services: Some features and services on Busha may only be available to verified users. Completing KYC can grant you access to these additional benefits.
By completing the KYC process, you not only enhance the security of your Busha account but also unlock a world of opportunities for safe and seamless cryptocurrency trading.
Depositing Money Using M-Pesa
2.1 How to Deposit Money into Your Busha Account
Before proceeding, it's important to note that Busha takes security seriously. Your funds and personal information are protected through advanced security measures. Always ensure that you are using the official Busha platform or app to make your deposits.
Depositing money into your Busha account is a straightforward process. Follow these steps to get started:
2.2 Navigating to the Deposit Section on Busha
To begin the deposit process, follow these simple steps:
Log in to your Busha account.
Navigate to your user dashboard or profile section.
Look for the "Deposit" or "Funds" tab and click on it to access the deposit options.
Then click on the Add Cash button
Users will be presented with two options: Mobile Money and Connect
Select Mobile Money
Add a new mobile money account (for Safaricom users on Mpesa)
2.3 Choosing M-Pesa as the Payment Method
Busha provides multiple payment options, and M-Pesa is a popular and convenient choice for users in Kenya. To select M-Pesa:
In the deposit section, you'll see a list of available payment methods. Choose "M-Pesa."
Register your MPESA account by entering your MPESA phone number and the name tied to the MPESA account.
2.4 Step-by-Step Guide to Entering the Deposit Amount
After selecting M-Pesa, you must specify the amount you wish to deposit in Kenyan Shillings (KES). Ensure that you enter the correct amount.
The minimum amount you can deposit is KES 100.
2.5 Getting the Payment Details: Paybill Number and Account Number
Once you've entered the deposit amount, Busha will provide essential payment details. These typically include a Paybill number and an Account number. Note these details, as you will need them to complete the transaction.
2.6 Initiating the M-Pesa Payment on Your Mobile Device
Now, it's time to initiate the M-Pesa payment. Follow these steps on your mobile device:
Open your M-Pesa mobile app.
Navigate to the "Lipa Na M-Pesa" or "Pay Bill" option.
Enter the provided Paybill number and Account number from Busha.
Input the deposit amount in Kenyan Shillings (KES).
Confirm the transaction and follow the prompts to complete the payment.
2.7 Waiting for Confirmation and Approximate Time Frame
After making the M-Pesa payment, it may take some time for Busha to confirm your deposit. The processing time can vary, but it is usually completed within a few minutes. You can check your Busha account for updates on the deposit's status. Be patient and wait for confirmation from Busha.
This secure and convenient method of depositing funds via M-Pesa ensures you're ready to engage in cryptocurrency trading on Busha confidently.
Withdrawing Money From Busha to M-Pesa
3.1 Steps to Withdraw Money from Your Busha Account to M-Pesa
Withdrawing your funds from your Busha account to M-Pesa is convenient and accessible. Follow these steps to complete the withdrawal:
3.2 Convenience and Accessibility of the M-Pesa Withdrawal Method
This withdrawal method offers unmatched convenience and accessibility. It allows you to easily convert your cryptocurrency holdings into Kenyan Shillings (KES) and have the funds readily available in your M-Pesa wallet.
3.3 Finding the Withdrawal Section on Busha
Log in to your Busha account.
Locate your account dashboard's "Withdraw" or "Funds" section.
3.4 Selecting M-Pesa as the Preferred Withdrawal Method
Once you're in the withdrawal section, you can choose M-Pesa as your preferred withdrawal method:
Select "M-Pesa" from the available withdrawal options.
3.5 Step-by-Step Guide to Enter the Withdrawal Amount in KES
Enter the specific amount you wish to withdraw in Kenyan Shillings (KES). Make sure to double-check the amount for accuracy.
3.6 Instructing Users to Provide Their M-Pesa Mobile Phone Number
Busha will need your M-Pesa mobile phone number to ensure a seamless transaction and safe delivery of your funds. Enter your correct M-Pesa number when prompted during the withdrawal process.
3.7 Reviewing and Confirming the Withdrawal Request
Before finalizing the withdrawal, it's essential to review the details. Here's what to do:
Carefully review the withdrawal amount, your M-Pesa number, and other transaction details to ensure accuracy.
Confirm the withdrawal request. Busha may ask for your confirmation to proceed with the transaction.
3.8 Being Patient as Busha Processes the Withdrawal
After confirming the withdrawal, Busha will begin processing your request. The processing time can vary based on the platform and other factors but is typically completed within a reasonable time frame.
3.9 Expected Time Frame
While processing times may vary, most withdrawals to M-Pesa are processed relatively quickly. However, it's important to note that some factors, such as network delays or security checks, may affect the time it takes for your funds to reach your M-Pesa account. In most cases, you can expect your funds to be available in your M-Pesa wallet within a reasonable time frame.
This withdrawal method ensures you can effortlessly convert your cryptocurrency holdings into Kenyan Shillings (KES) and have your funds accessible in your M-Pesa wallet. It's a quick, secure, and user-friendly way to manage your finances on Busha.
Conclusion:
This blog post has provided a comprehensive guide on how to deposit and withdraw money on Busha using M-Pesa, Kenya's trusted mobile money service. We've covered all the steps, emphasizing the ease and convenience of this method.
We encourage you to leverage the benefits of this convenient and secure method for handling your cryptocurrency transactions. Welcome to a world of possibilities in cryptocurrency trading with Busha and M-Pesa.
Join the newsletter to receive the latest updates in your inbox.