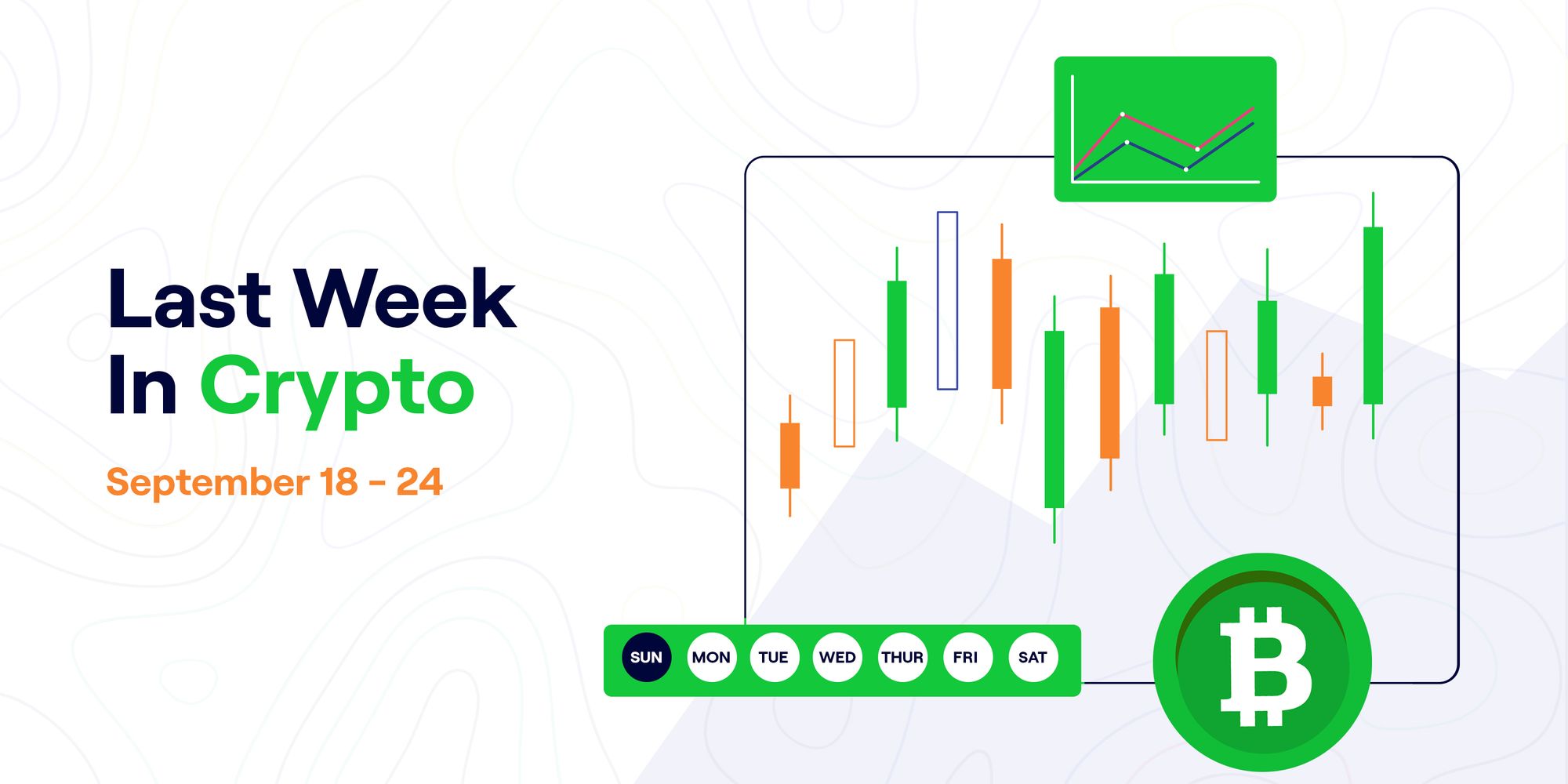 Last Week In Crypto - September 18 -24
Hi guys,
I'm here again to update you on what's happening in our collective crypto universe. If you're feeling nervous about what's to come, breathe easy, I've got more good news than doom this week…I think. 😭
COLORADO ALLOWS THE USE OF BITCOIN TO PAY TAX
Colorado becomes the first state in the US to use Cryptocurrency via PayPal to pay taxes. Colorado citizen payments can now be made via the cryptocurrency hub on PayPal. The governor of Colorado mentioned last February that his government had outlined plans for the proper enrollment of Cryptocurrency before the end of summer.
According to Gov. Jared, this new law will allow residents to use crypto to pay for personal income tax, business income tax, severance tax and withholding tax. Undoubtedly, the checkout will be in dollars, but PayPal allows users to deposit and withdraw Cryptocurrency and has a variety of coins. But there's a service fee of $1 plus 1.83% of the transaction amount.
Go, Colorado! Excellent thought leadership.
DUBAI ROYAL FAMILY NEEDS BITCOIN IN UAE
A major collaboration between the company of the private office of Sheikh Saeed Bin Ahmed Al Maktoum, Seed Group and CoinCorner, a renowned provider of Bitcoin and Lightning Network services, to enhance the legalization of Bitcoin as a legal tender in the United Arab Emirates.
Stunned by the rise in cryptocurrency adoption, UAE wants to revamp their virtual economy entirely. Observantly, the CEO of Seed mentioned that individuals and so many companies had made numerous requests to adopt the use of blockchain as legal tender and everyday transactions. Also, it is essential to note that Seed group wants to use this chance to promote the private cryptocurrency firm in the Arab emirates and the Middle East.
As of the publication of this blog, the region ranks 3rd in cryptocurrency usage in the middle east and aims to do much more. But, CoinCorner has a competition; you guessed right, Binance. Virtuzone, a leading business formation provider in UAE, recently partnered with Binance. The aim was to engineer better adoption of crypto in the region. But, as the cryptocurrency universe progress massively under healthy competition, so is the UAE economy set for a booming era.
RUSSIA TO LEGALIZE CRYPTO MINING
The monetary authorities in Russia, the Central Bank of Russia (CBR), have officially announced that Cryptocurrency will be unbanned for mining in the country under a special agreement; it must be sold outside of Russia. A statement made by Kirill Pronin, Head of Bank of Russia's Financial Technologies Department on cryptocurrency legalisation, states that the country leaders would be in control of the sector and have drafted bills to regulate whatever is happening there. You could be howling at this news and probably ask, what changed Russia's stance on Bitcoin?
We could sit all day to discuss several factors, but let's brush through some of them quickly. Everything has changed since the war Russia declared on Ukraine, from the oil sector, sports, and the euros, most of the world powers have sided with Ukraine and had Russia cornered. These brought a lot of economically damaging sanctions on the Russian economy, so it may seem they sat down and looked for a way to have a cash flow in Europe and the world and decided it had to be Cryptocurrency. I must admit it's good thinking on their part to restrict the sale to only the international communities, so they don't get dumped and left stuck within the nation.
Another factor to consider is that Russia is a frigid region, which eliminates the need for a heat cooling system for mining spots. The land space and the electricity are also highly cheap, so there's an enabling environment for crypto mining in the country.
It's a clever move by Russia, and I'm glad many countries are adopting cryptocurrency to sort out their financial troubles.
DO KWON HAS ELOPED!!
In our last digest edition, I stated that South Korea and Interpol are in a country-wide search for Terra co-founder Do Kwon. You can go back to get more information. It continues the industry-wide pressure on the intensive regulatory debate about market conduct, consumer protection and financial stability risks associated with crypto markets.
According to reports from the force in S.Korea, they agree that Do Kwon is no longer in the country and has escaped to an unknown location. So, what happens to Luna and the rest of the coins? Before I answer that, I think it's necessary to note that the terra collapse of May this year saw prices of LUNA and UST tokens drop over 99.7%. Concurrently, decentralised finance applications built on the network lost some $28 billion in market value, making the entire ordeal one of the single-largest capital destructive events in the history of cryptocurrencies.
Analysts believe that the rigorous clamp down on Do Kwon may have little or no effect on the Terra network. I had to agree with them as, over a few days last week, LUNA has exponentially gained over 200% following the release of a fundamentally new catalyst.
Does LUNA still stand a chance, or are you done with that network?
KENYA BANK GOVERNOR FIGHTS CRYPTOCURRENCY
Well, some heated debates have been discussed on adopting the national reserve to Bitcoin in the past week in Kenya. I'm always excited to report it when countries and their authorities have a round table discussion on Cryptocurrency and discuss it with so much importance on whether it's right or wrong because it's imperative. Such was with the case of the Kenyan Central Bank governor, Patrick Njoroge. The argument infuriated him, and he came on air to describe the idea of turning the federal reserve to Bitcoin as ''Craziness''. He mentioned scornfully that if it ever happens that he agrees to convert the national reserve to bitcoin, he should be jailed, and his prison cell keys are thrown away. Funny, I want to believe he was hundred per cent serious there.
Under the stewardship of Njoroge, he has always been on a campaign against Cryptocurrency. Njoroge's office has envisaged that the volatility of Bitcoin makes it one of the key reasons it will not be used as a payment platform. Therefore, he has advised people against buying and selling cryptocurrency.
While Njoroge has been vocal about his profound opposition to the use of Cryptocurrency in the nation, the people of Kenya have been doing the direct opposite, because, according to studies, Cryptocurrency has been growing massively in Kenya. For example, Paxful, a peer-to-peer exchange platform in the country, reported that its users in the country have digital assets of $125 million in the first half of 2022.
Is the CBK governor right, or would they eventually bend to pressure?
BITCOIN VS NETCOIN: EASY DECISION
Over a decade since the emergence of Bitcoin, this system has revolutionised the ecosystem of digital currency and currently stands as the most valued coin in the world. But imagine if the name had not been Bitcoin. The creator of Bitcoin, Satoshi Nakamoto, had other plans initially. Or Weinberger, a crypto locksmith, made a shocking discovery that would have given Bitcoin a different name.
According to a series of tweets released by Or, on August 18th, 2008, Bitcoin.org, the domain linked to Bitcoin, was registered by Satoshi Nakamoto under AnonymousSpeech. This Japan-based service allows users to purchase parts anonymously. Interestingly, it has been observed that he also bought a domain called Netcoin.org under AnonymousSpeech on Aug.17, 2008. Or confirmed that no content was published on Netcoin.org and was later sold to another person. It was later deleted and registered under web.com as a subsidiary.
This discovery brought a lot of emotions to it as people believe the success of bitcoin is primarily due to its name. As well, so many users showed immense displeasure with the name Netcoin. So invariably, Nakamoto made an appropriate decision in this aspect. Youou can check Or Weinberger's Twitter page to get more details on this.
INTERNATIONAL NFT DAY: WHAT'S IT?
Tuesday, September 20th 2022, is the international day for NFT. With the rising popularity of Non-Fungible Tokens (NFT), September 20th is now recognised as NFT day in the crypto community.
NFT was coined by Dapper Labs Chief Technology Officer Date Shirley in the form of the ERC-721 standard on the same day in 2017, marking its existence. NFTs can be defined as digital assets that can be stored, transferred, and traded, just like traditional assets. They provide a secure way for people to exchange information, arts, games and money without having to trust third parties. This platform uses mainly Ethereum as the paying platform. To learn more about NFTs, click here also to get started.  
The day was inundated with September 20th to celebrate the creators or collectors in the NFT community. While it also means people can get their collections up and learn more about the platform.
The popularity of NFTs is surging globally and might lead to an interoperable group of the metaverse, where cryptos will be the most significant currency to buy anything and everything. Are you a big fan of NFTs?

MEME OF THE WEEK
Safe to say, we may actually be the less intelligent primate 🤣
https://twitter.com/mohitalam_/status/1571919797566459906?s=46&t=tjfNdy8kxLmyTDBmva_5fg
As mentioned last week, I will continue to answer some vital questions that may have bothered your mind. Here's this week's question of the moment.
IS CRYPTOCURRENCY ILLEGAL?
Part of cryptocurrency's definition is that it runs on a decentralised system. That means there's no centralised organisation in charge of it. Cryptocurrency also eliminates the need for an intermediary, or 'the middleman'. Also, it's important to note that cryptocurrency gained its reputation for anonymity, so traders and buyers don't have to reveal their identities during transactions. So yeah, some people have taken up the opportunity to do illegal stuff with crypto coins.
But there's a catch here; the blockchain network publicly records all transactions. So in case of any illicit font or activity, transactions and payments can be traced back to either a crypto exchange or a wallet that will inadvertently pinpoint the end-user.
And if you would like me to answer your questions next week, comment below. I'll be reading.

See you next week!

Join the newsletter to receive the latest updates in your inbox.