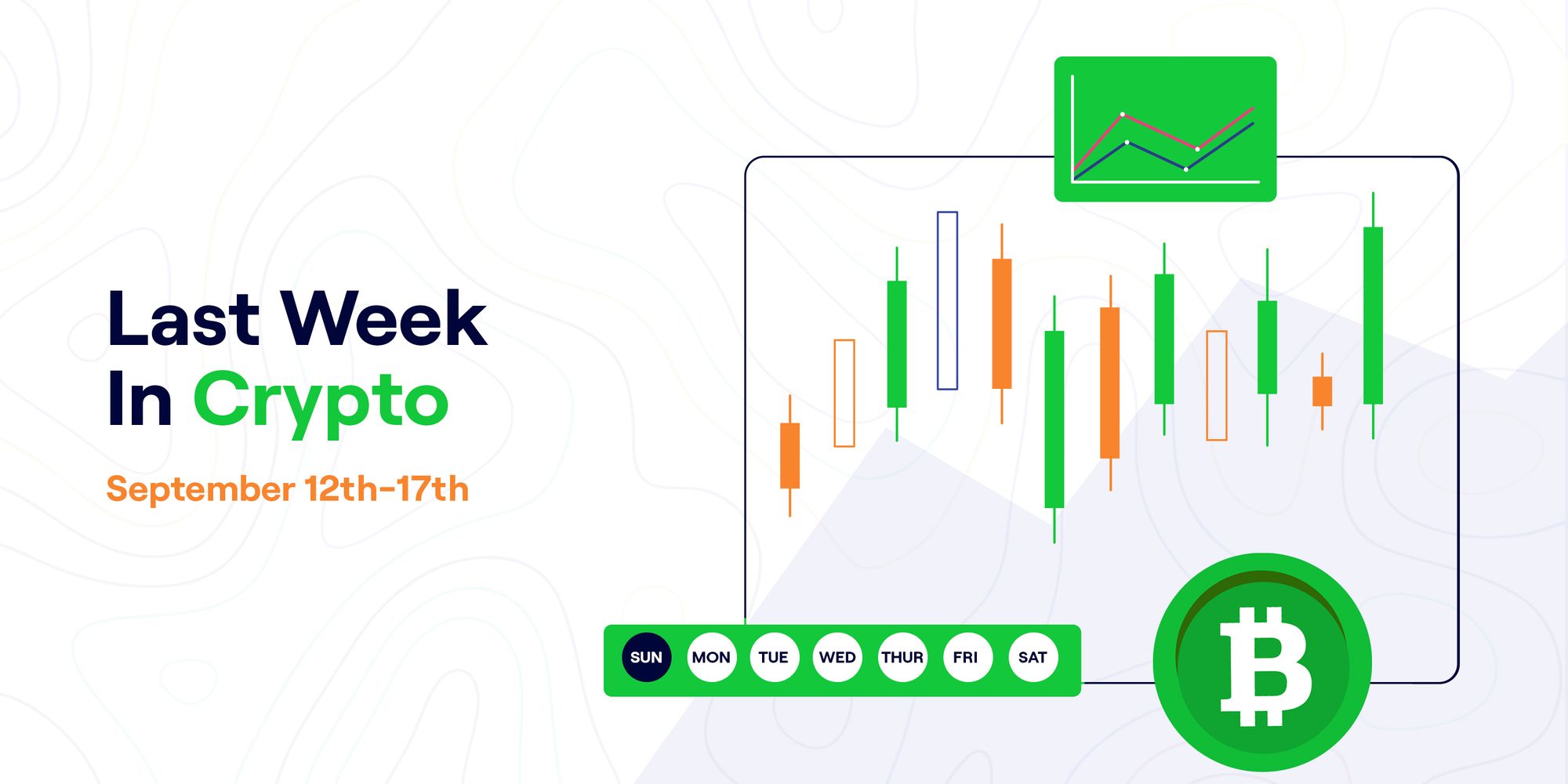 Last Week In Crypto - September 12 -17
Hello guys,
It's another edition of last week in crypto! I hope you've been enjoying these round-ups as much as I have cause it keeps getting werrsseerr! Just kidding, it's actually getting better because I have something new for you this week. Keep reading to find out what.
SOUTH KOREA WANTS LUNA FOUNDER
There's every malice in the sentence above. Most countries regulating Bitcoin are in a severe crackdown on crypto defrauders worldwide. One of the giant clamp downs currently is S.Korea on the lookout for one of the co-founders of Terra Blockchain.
Four months since the depegging of the TerraUSD coin, the South Korean government has put out a wanted notice for Do Kwon, the co-founder of Terraform Labs. Remember that Luna experienced a value collapse of $48 billion four months ago.
Although Terra headquarters is located in Singapore, Kwon is still a South Korean citizen and still answerable to its law. Kwon is wanted for allegedly violating South Korea's Capital Markets Act, with prosecutors reportedly charging that UST and Luna should have been classified as "investment contract securities."
If you were affected by the Luna collapse, you would take this more light-headedly. I will be updating you guys on any further news on Do Kwon. *insert amen emoji*
STILL ON THE MERGE: FINALLY DONE
When I said the previous week that the Merge was nothing far from being over-reported, I intend to keep you guys updated on any gist from that ecosystem. For the past two weeks, I have diligently updated you guys on every detail about the Merge, and finally, that phase is over, and the Merge is complete.
I have explained the Merge in a previous release. Still, I will repeat that the overhaul of Ethereum or "the merge" aims to move the second largest cryptocurrency to a more energy-efficient system after years of delay and development in line with climatic issues the whole world intends to fight.
Here's the good news, the result was gigantic. Ethereum now consumes less than 99.9% of energy. One observer likened it to Finland shutting down its power grid. Ethereum developers say the $60 Billion ecosystem is now more secure and scalable.
Is Ethereum beating bitcoin in the near future? 🤔
BILLIONAIRES LOSE $93 BILLION IN ONE DAY
Wall Street had a hailstorm fall on them this week, and the fortunes of Billionaires were diminished by a massive $93 billion on Tuesday. Famous names like Jeff Bezos's wealth plunged by $9.8 billion, the most among those tracked by the Bloomberg Billionaires Index. Elon Musk's net worth dropped by $8.4 billion. Mark Zuckerberg, Larry Page, Sergey Brin and Steve Ballmer's fortunes declined by more than $4 billion, while Warren Buffett and Bill Gates lost $3.4 billion and $2.8 billion, respectively.
Overall, the world's 500 wealthiest people are worth about $1.2 trillion less than they were at the start of the year.
Could these numbers reaffirm the place of cryptocurrency, the DeFi ecosystem and their role in financial security? OR do you think the world's wealthiest men underuse cryptocurrency? 🤔
BIGCOMMERCE TO OFFER CRYPTO PAYMENT TO MERCHANTS
BigCommerce, a Software-as-a-Service (SaaS) company like Shopify, has announced that it now allows Bitcoin and other cryptocurrency payments to its 60,000 merchants. The company has partnered with BitPays and CoinPayments to build a one-click payment platform for its services.
BigCommerce, similar to Flutterwave and Shopify, offers businesses a platform to grow their own eCommerce business with a user-friendly setup and software integration. This model of API integration for companies has over 60,000 merchants worldwide, and now each of them gets to use cryptocurrency as a payment service. As announced, only Bitpays and CoinPayments support the platform for now.
I believe it's time more platforms integrate cryptocurrency paying platforms into their system.
WHAT'S NEXT FOR BITCOIN AFTER THE MERGE?
For the past three months, Bitcoin has not had any noticeable changes in its price, as it maintained in the region of $17,000 - $24,000. While continued consolidation within this range may typically be suitable for altcoins for growth, macro tension may continue to weigh on crypto and market equities.
The hot consumer price index print from Sept. 12 could lead to more aggressive rate hikes from the United States Federal Reserve, and the potential knock-on effect on stock prices could have an even sharper spillover effect on crypto prices. This means that Bitcoin needs to beat its current range or go way below the current range.

Will Bitcoin fall below 17k?
AUSTRALIA SOLAR-POWERED CRYPTO FARM
Critics of cryptocurrency for some years now keep talking about the adverse effect of crypto on the universe and say such things as; bitcoin is the leading cause of climatic issues and the high consumption of crude oil. But most recently, Ethereum completed Iran's popular Merge and has reduced energy consumption by almost 99,9%. A media report reveals that a crypto mining data centre in South Australia will be running mainly on solar-generated electricity.
Australian national broadcaster ABC notes in a statement that when the world is trying to reduce energy consumption, the extraction of the leading cryptocurrency by market capitalisation uses more power than in medium-sized nations such as Argentina. It's echoing criticism highlighted by mass media around the world. According to reports, this farm can mint up to 100 BTC annually.
Do more minting farms need to adopt energy-saving technologies?
UK GOVERNMENT ON FTX NECK
Britain's top financial regulator, the Financial Conduct Authority (FCA), has warned cryptocurrency platform FTX that they're operating in the UK without authorisation.
FCA explained that FTX had targeted some UK investors without compiling with amended "Money Laundering, Terrorist Financing and Transfer of Funds (Information on the Payer) Regulations," duly registered by the FCA.
FTX, from their end, started operating in Europe in late march and since then has received approval from the Cyprus government to act in their region. So it's believed that they will reach out to the Uk government to work in their area too.
EUROPE WANTS A DIGITAL CURRENCY
ECB Europe Central Bank has chosen five companies to help develop an interface for its new proposed digital currency. Each company will focus on one part of the interface and collaborate with the ECB on the digital Euro.
The companies and their functions include Caixabank and Worldline, focusing on peer-to-peer online payments. EPI and Nexi will focus on point-of-sale payments initiated by the payer. Amazon will focus on e-commerce payments. The ECB formally started investigating what its central bank digital currency (CBDC), a digital euro, might look like in October last year, noting that the investigation phase should last about two years.
Is Europe nose-diving into its digital currency era?
MEME OF THE WEEK

I believe I shed some joyful tears when I saw this post.
https://www.instagram.com/p/Cih6a4Loers/?igshid=YmMyMTA2M2Y=
As promised at the beginning of this post, I have something new for you. Starting this week, I will answer your crypto-related questions weekly in the next blog post. This week, here's a reoccurring question I've been seeing.
Considering the recent news around Cryptocurrency, is investing a good idea?

Absolutely. However, you need to understand that it's a high-risk level investment. I won't call it an 'investment gamble', but there's a strong arm you will make a lot of money from and the weaker arm you can lose all your investment.
People make fortunes from cryptocurrency, and you can decide to join the bandwagon or play it safe. But Marla Gibbs put it best, 'I truly believe that everything we do and everyone we meet is put in our path for a purpose. There are no accidents; we're all teachers - if we're willing to pay attention to the lessons we learn, trust our positive instincts and not be afraid to take risks or wait for some miracle to come knocking at our door'.
I'm no financial adviser, but here's what I always tell people; allocate and only use the money kept for crypto investments for that purpose rather than invest your essential needs funds. Often, I guarantee that the long-term HODL on assets bought will be rewarded in the long run. Just learn the basics and keep trading.
If I kick-started any crypto euthanasia in you, go ahead to Busha and get started. Good luck and happy trading.

And if you would like me to answer your questions next week, comment below, I'll be reading.

See you next week!
Join the newsletter to receive the latest updates in your inbox.