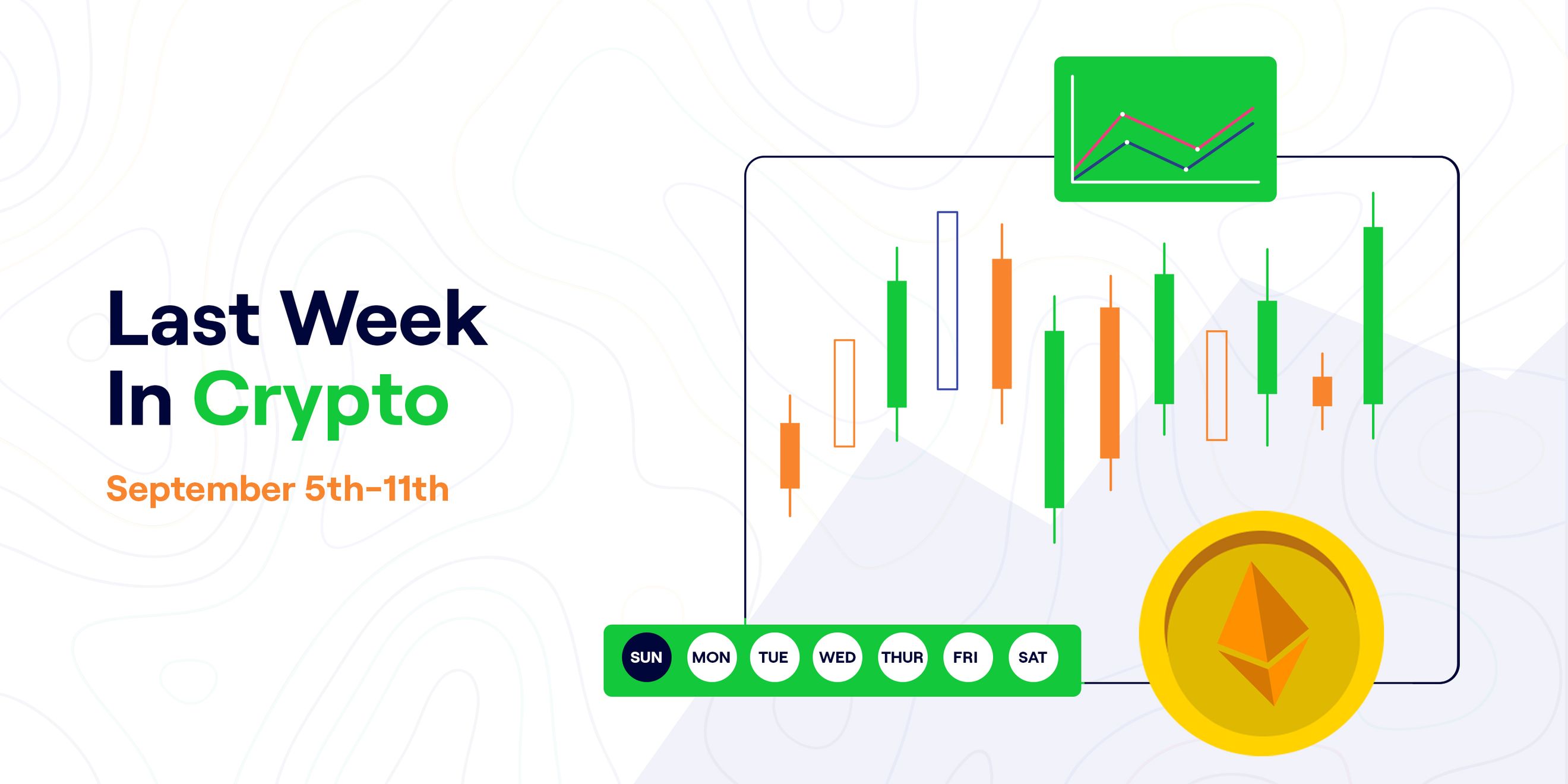 Last Week In Crypto - September 5TH - 11TH
Hello people,
Welcome to another edition of last week in crypto. Let's get right into it, shall we?
Nigeria is Flirting With Binance
Binance began talks with the Nigerian Export Processing Zones Authority (NEPZA) to create a virtual free zone focusing on the digital economy and blockchain in Africa's largest economy. It's essential to define that a digital free trade zone is an ecosystem that helps capitalize on the exponential growth of the internet economy.
This is coming after Binance created the Dubai virtual zone in December 2021 to help create an enabling environment for crypto companies to flourish and encourage long-term economic growth. NEPZA director commented that the goal for this partnership is to give rise to flourishing virtual free zones to take advantage of a near-trillion-dollar virtual economy in blockchains and digital economy.
I believe Binance took this colossal step after seeing the numbers made by eNaira in its August report. It is worthy to note that after the launch of the eNaira in October 2021-August 2022, the eNaira (the second largest central bank currency in the world) will be used to carry out transactions worth 4 billion Naira ($9.2 million).
First of many from the Nigerian Government? Well, I hope so.
Strong Tackle on Stablecoin
The U.S. Congress has been making progress in stablecoin oversight for some time. Remember, there's a bill going on about pushing stablecoin into usage currency in the U.S. Unfortunately, this bill has hit an insurmountable snag as negotiations on this bill have been delayed and dragged out further than its calendar period.

Despite initial plans to release a draft of the bill this week, talks have bogged down as arguments ensued between Democratic chairwoman and their republican counterparts. There are still several things to iron out, such as the role of state regulators, the possibility of a digital dollar shortly and the treatment of customers' money held up by crypto companies.
My fingers are crossed that this bill will be passed this year and a HUGE boost for us, the stablecoin holders!!
Should Immunicorn (IMU) Be Considered A Stable Coin?
Since the bear market started, investors have shifted their focus to the coin immunicorn. Initially a Defi project, IMU suddenly became a safe haven for investors trying to play out the bear market. Created to attract new investors, this ecosystem uses a reserved algorithm to keep the price stable.
The ecosystem of IMU was created in the Defi system and therefore has the lowest risk for new investors because the solid token against low volatility makes it one of the most stable coins.
Are you lured to get IMU?
SHOCKINGLY, RUSSIA'S CENTRAL BANK AGREES TO LEGALIZE CRYPTO
Emphasis on the shock because Russia has always been one of the antagonists of trading cryptocurrency in its country. But unprecedented Western sanctions have hit the heart of Russia's financial system over events in Ukraine, and lawmakers have scrambled to bring in new legislation to soften the blow. Lawmakers have drafted a bill to exempt users of cryptocurrencies and digital assets from value-added tax.
Two significant lenders have come out from Russia since the beginning of the year; Atomyze and Sberbank. So there are basic steps Russia has already taken to move forward in this deal. However, the 'upper house' still needs to review the draft and imminently signed by Vladimir Putin.
This is an incredible move, and we hope other countries fall back to cryptocurrency in the future!!
STILL ON THE ETHEREUM MERGE
The long-awaited Merge is here, and there's excitement among holders of ether (ETH) as this will cause a short supply of the coin and thereby make it a deflationary asset. You must be asking what a deflationary currency is. It's a cryptocurrency with a depreciating amount of coins.
While the ETH 2.0 will make ether a deflationary asset, they believe it's not happening anytime soon. They said low network usage would delay major ether transformation to a deflationary currency. The burn rate for ether this year, which is tied to the network usage, has cooled due to the bear market.
Guys, are we holding out for this period?  
CELCIUS ACCUSED?
This time we aren't talking about temperature; it's a crypto lending company that has filed for bankruptcy. The Vermont Department of Financial Regulation and several other U.S. regulators alleged that Celsius has not been transparent in its financial statements. Vermont released a damning report of the company and said they operated in a 'Ponzi scheme-like manner.

According to the report fillings, one of the eye-catching reports was that Celsius lost about 35,000 Ether that belonged to Stakehound. So Celsius borrowed from new investors to pay the old ones till they ran out of break. As a result, experts believe for two years, Celsius hasn't been honest about its financial health and misled its creditors for a long while.
Do you think Celsius has cheated for so long and may get away from it?
PIG-BUTCHERING ON WHATSAPP
An old name, New tactics. Pig-butchering is a method when a scammer builds up trust with its victim and promises romance and fame and double investment till they deposit money into their fraud crypto wallet. These scammers send messages to their victims via WhatsApp and Tinder, use a famous person's profile, build trust with them, and promise absolute wealth for them until they elope with all their money.
Just to put it out there. Guys, I'll always bring the gist. So here's where it gets interesting; A man lost $1 million to pig butchering. You may be wondering if someone can be so gullible to lose all that money, so listen to the whole story :
A man received a message out of the blue from a 'supposedly' old colleague and said she reached out to check up on him with a series of conversations from having a cup of coffee to discussing family issues, a period spanning 3 months.
The man in question said they played on his ailing father, overworked mother and college-bound daughter. As he got to know this old colleague, he was increasingly intrigued by claims that she had been making boatloads of cash by trading on MetaTrader, an app available on Apple's App Store. He was pig-butchered!! This man has lost over a million dollars in this period, with over a quarter of this money borrowed.
It was just a sad story. Do you think a lot more work should be done on stopping crypto scams?
Did CRYPTO SCAMMERS HELP LAUNCH THE IPHONE 14?
Bad actors will always offer what's too good to be true, and the same goes for crypto scammers; unfortunately, they will always be here with absolutely nothing we can do about it. While Tim Cook and co were unveiling the new iPhone 14, iPad and Apple watches, scammers were also unveiling their master 'heist'.
While the 50-year-old Tech firm was launching new products with millions of people expected to tune in to a live event, scammers were preparing and running their show. Yeah, you guessed, right? They reshaped an old interview with the face of the Apple CEO and used this platform to promote a fraudulent crypto website. No amount could be attributed to this fraud activity, but they linked a dubious URL to the video that linked viewers to a site other than Apple's website. Of course, youtube took out the video hours later, but we can only imagine how much they must have taken away from the heist.
Only time will tell!!

MOONERS AND SHAKERS: PUMP INTO THE WEEKEND.
Bitcoin, Ethereum and some other coins pumped massive green lights from Friday nights into the weekend. But at the time of this writing, most of the coins have cooled massively and have maintained the early highs from the early weekends.
Let's talk about one or two coins. If you're a keen observer like me, you will notice that LUNA is on what I call 'The Undertaker Rise'. In the past week, they have surged more than 200% and over 250% in two weeks. As a friend, I will advise you to look out for that. Then the LUNC, upon my last roundup, we discussed the LUNC system upgrade and since then, which can be easily guessed, the coin has been exhibiting a somewhat up and down and up movement for some time, but I think we all know where that will end.

N/B, LUNA and LUNC aren't the same coins, but we will discuss that later.
Are the mooners ready, or are we still in shakers season?
MEME OF THE WEEK
For my top meme pick for the week, check this out! If you can relate, raise your hands in the comment section. 😂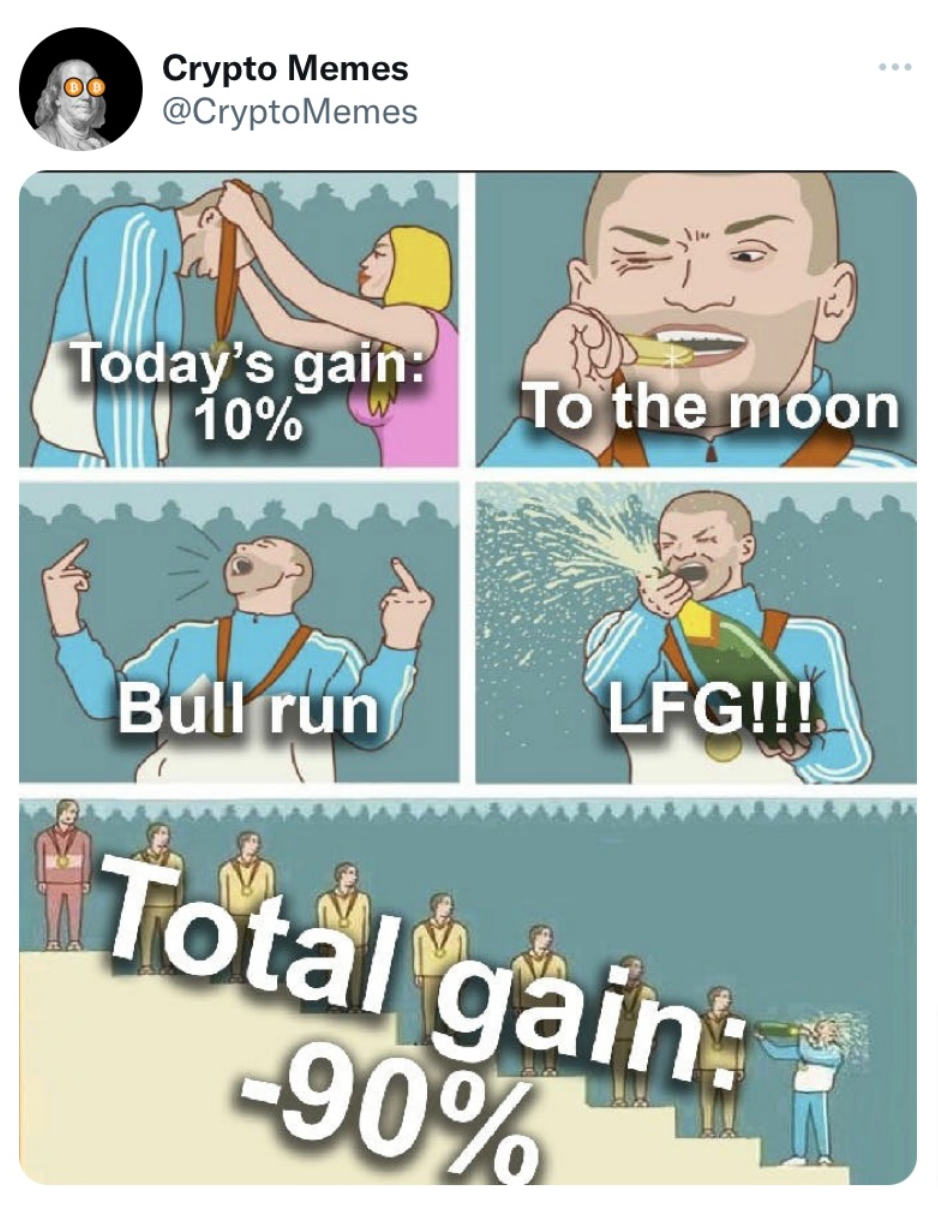 See you next week!
Join the newsletter to receive the latest updates in your inbox.