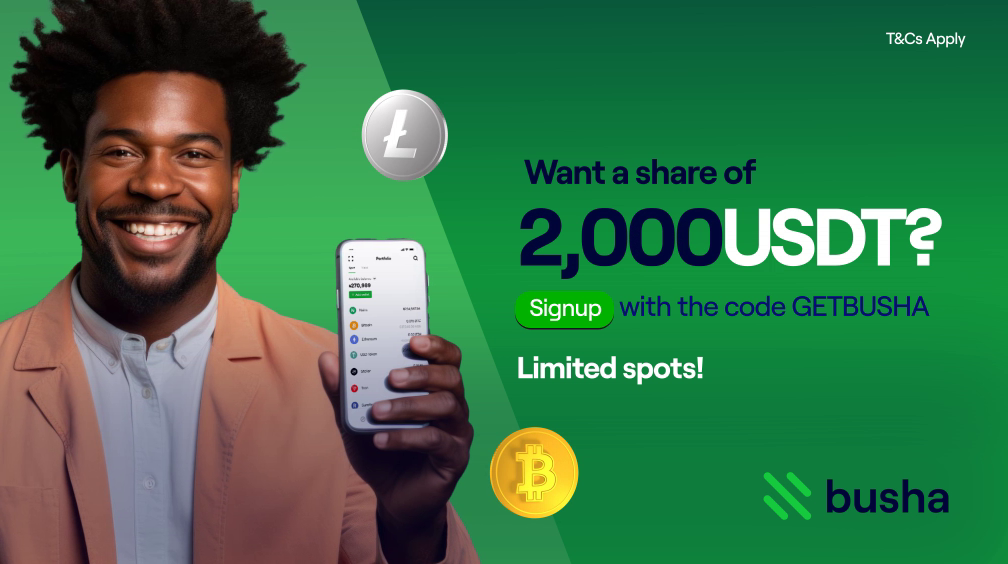 Unlock Your Share of 2,000 USDT with Busha
Are you ready to supercharge your crypto journey while reaping incredible rewards? Introducing the Busha 2,000 USDT Giveaway—a fantastic opportunity where every sign-up counts and every participant is a winner! With exciting rewards and a straightforward process, this campaign is tailored to empower you on your crypto adventure. Continue reading to discover how you can seize this remarkable opportunity.

How To Participate:
To be eligible for this offer, you must be a new sign-up. In other words, if you don't already have an existing account with Busha, get ready for something special.

Limited Spots Available:
Hurry, as we have limited spots for this exciting giveaway. It's a first-come, first-serve opportunity, so make sure you don't miss out.

Your Reward Awaits:
The first 1,000 new sign-ups will receive 2 USDT credited directly to their GetBusha wallet. It's our way of celebrating your commitment to the crypto journey.
Terms and Conditions:
Just like with all great opportunities, we have a few terms and conditions to ensure a fair and transparent experience for everyone:
Busha reserves the right to disqualify new customers engaged in fraudulent activities or attempts to manipulate the sign-up process.
Determining the winners is our prerogative. We will identify genuine participants and award them accordingly.
We may update the campaign's terms from time to time. Any changes will be effective once uploaded to this blog post.
Busha values transparency and integrity. Rest assured, our goal is to create a fair and rewarding experience for all participants.
Participation is open to both users in Nigeria and Kenya.

Don't Miss Out:
Seize this opportunity to join the crypto world, earn, and make the most of your financial journey. Get started with Busha today by signing up with the code "GETBUSHA" and be among the first 1,000 to claim your USDT reward.

Remember, the world of trading is at your fingertips with the Busha 2,000 USDT Giveaway. Download the app, trade responsibly, and unlock the door to exciting rewards. Start your journey today and let your gains speak for themselves.
For further inquiries or assistance, don't hesitate to contact our customer support team at support@busha.co or via the In-App live chat option. Happy trading!
---
Read Next: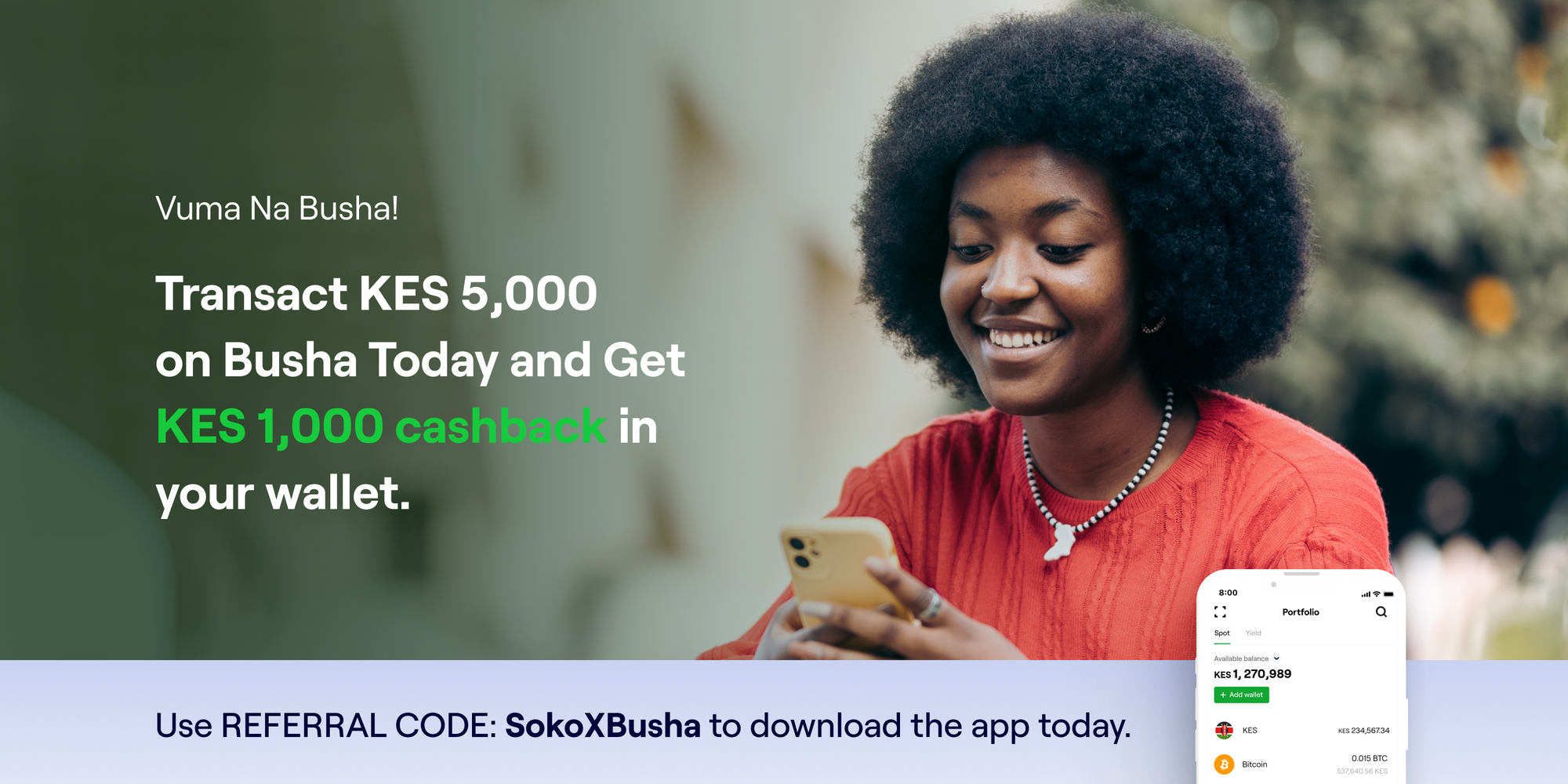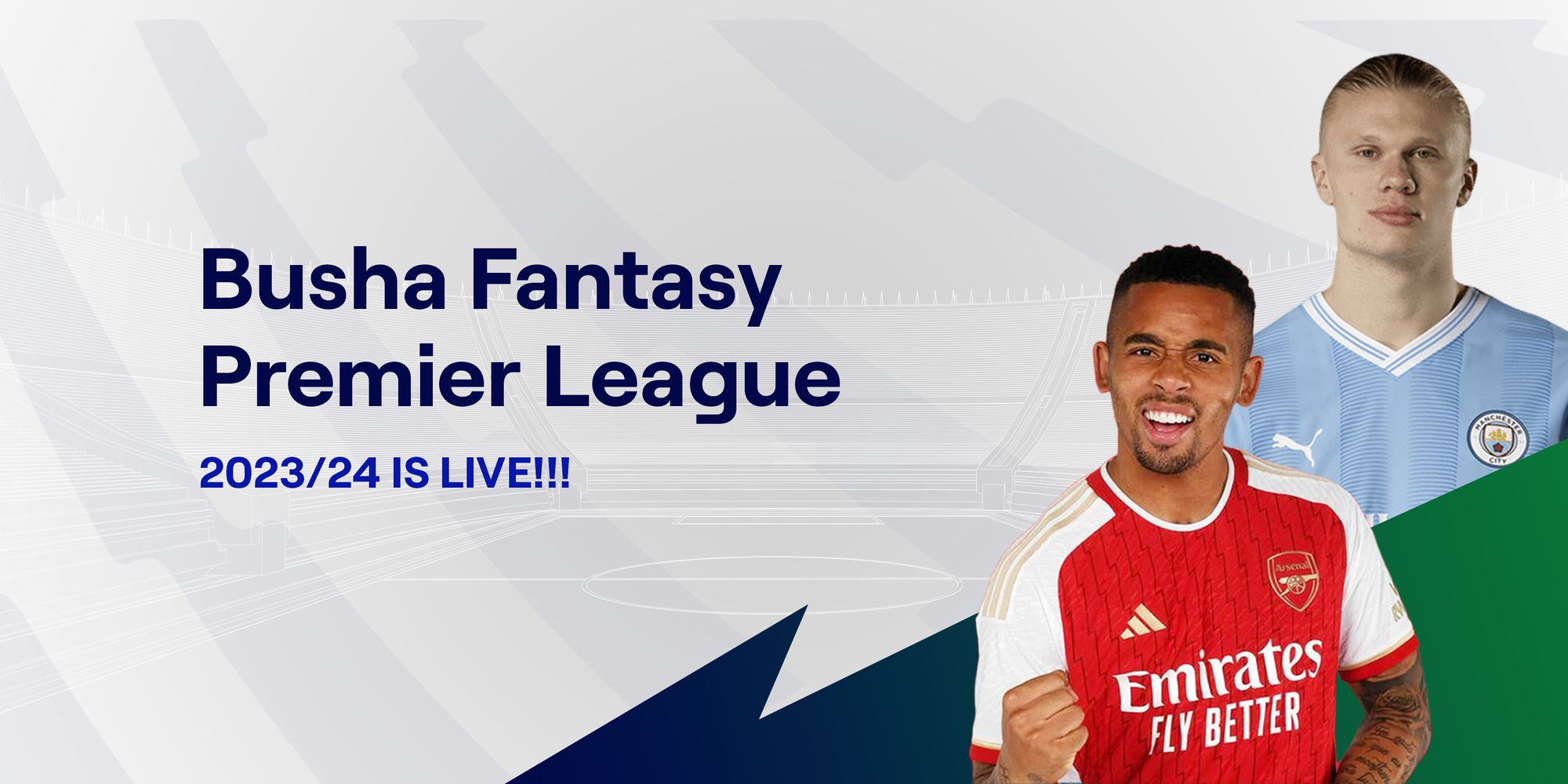 Join the newsletter to receive the latest updates in your inbox.