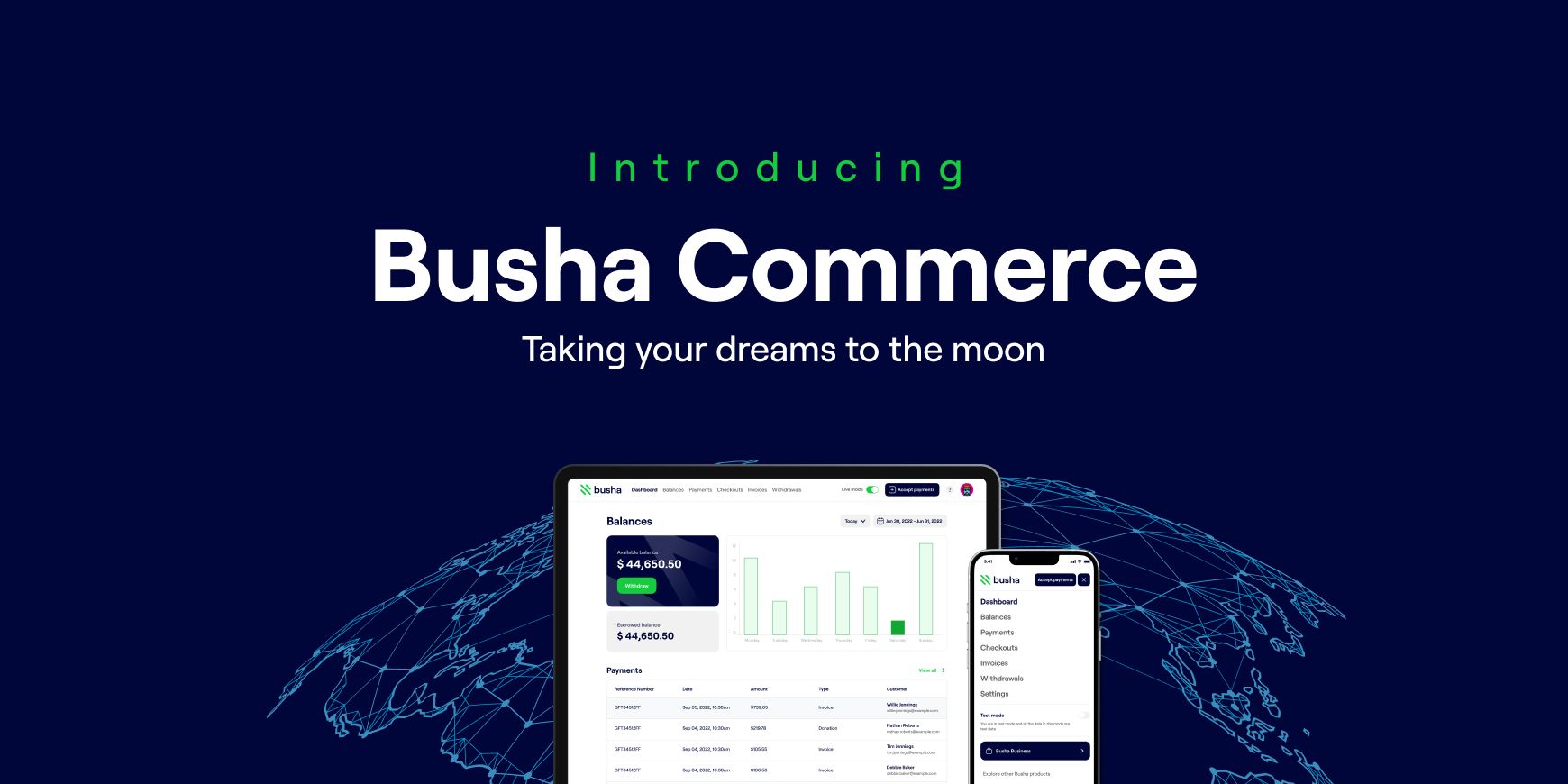 Take Your Dreams to the Moon with Busha Commerce
Introducing Busha Commerce, an all-in-one platform for individuals and businesses to accept payment from anywhere in the world with the most popular cryptocurrencies.
Last year, we introduced Busha Yield, and you loved it!
I mean, it's the perfect solution for anyone who would rather play safe with crypto and earn a great passive side income with dollar stablecoins.
Then came Busha Spend, an in-app feature that continues to allow you to buy airtime, data and vouchers from your favourite stores (like Shoprite, Jumia, and much more) using crypto and regular fiat currency. Plus added cashback? Woah!
Now, we're excited to welcome a new product designed just for you only: Busha Commerce.
This all-in-one platform allows small, medium and large-scale businesses to accept payment from anywhere in the world with the most popular cryptocurrencies. It will also enable buyers to shop using crypto payments. So, global payments, local payments, you name it!
No more dorm account hassle, no maintenance fees, no charge-backs, and no currency limitations. Straight to a universal asset, available across borders, which converts to your local fiat currency.
But it gets even better!
Individuals and NGOs can also create donation links and receive donations for personal or CSR projects in cryptocurrency. Completely charge-free.
---
The Scoop on Busha Commerce
"The aim was to create dashboards that allow businesses to create checkout, share payment links & withdraw earnings to facilitate business goals & revenue growth." — Kayode Odesanya, Product Manager at Busha.
If you're a business owner, you can easily create an account for up to six businesses! You can also generate payment links for all your businesses, whether registered or unregistered. Your dashboard allows you to manage all transactions and withdrawals in one central place.
But if you're not one, don't worry. There's also something for you.
Suppose you are an aspiring entrepreneur seeking start-up funds, for example. You can create a donation link, add the details of your cause/campaign, share it with friends and family or on social media, and receive cross-border donations in crypto that is convertible to your local fiat currency. You can also track and manage these donations easily.
Hang on, we're not done.
For users who want to integrate this feature into their e-commerce websites, our well-documented API library has been made available on the Busha Commerce website.
With Busha, take your dreams to the moon!
Get started now. Visit, www.busha.co/commerce.
---

Join the newsletter to receive the latest updates in your inbox.