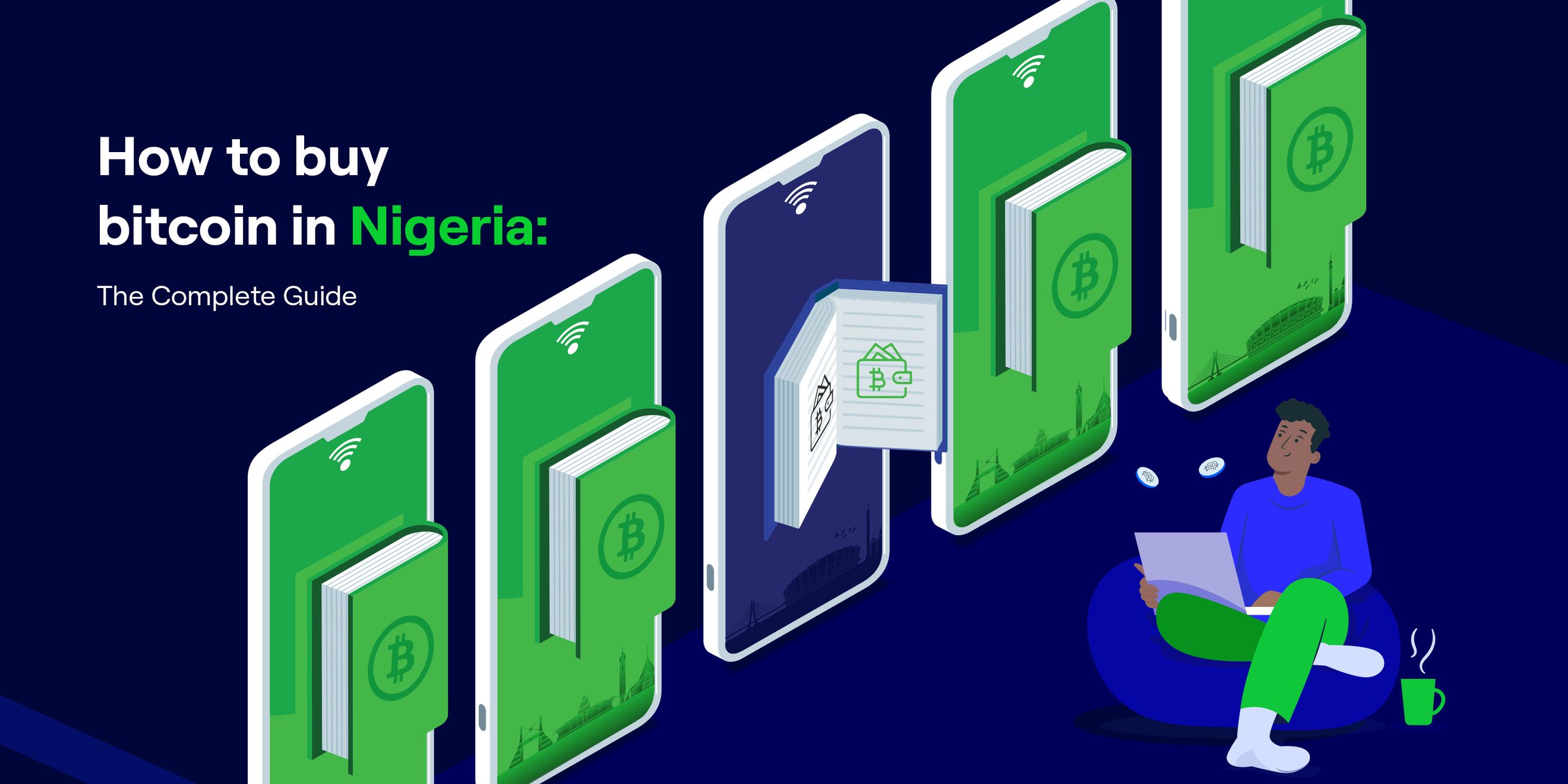 How to Buy Bitcoin (BTC) in Nigeria: The Complete Guide
In a world where digital currencies are reshaping the finance landscape, Bitcoin is a beacon of innovation. With its thriving tech-savvy population, Nigeria is embracing this financial revolution like never before. If you find yourself intrigued by owning a piece of the cryptocurrency pie and navigating the bustling Nigerian market, you've come to the right place. Welcome to our guide on buying Bitcoin in Nigeria. We will explain everything you need to know about trading cryptocurrency and acquiring Bitcoin in Nigeria.

Understanding Bitcoin: A Brief Overview
Bitcoin is a type of digital currency, often referred to as a cryptocurrency. Imagine it as a virtual version of the Naira notes you use daily, but it exists purely digitally. Created in 2009 by an anonymous person (or group) using the pseudonym Satoshi Nakamoto, Bitcoin was introduced to enable peer-to-peer transactions without intermediaries like banks.
What sets Bitcoin apart is its decentralized nature. Unlike traditional currencies governments and financial institutions control, Bitcoin operates on a decentralized blockchain network. This blockchain is a distributed ledger that records all transactions securely and transparently. Instead of being printed or minted, new Bitcoins are "mined" by powerful computers solving complex mathematical puzzles. There's a limited supply of Bitcoin—only 21 million will ever exist—making it somewhat akin to precious metals like gold.
Bitcoin transactions offer privacy and security advantages due to their encryption techniques, and they can be sent and received globally with relatively low fees and fast processing times compared to traditional banking systems.

The Different Methods of Buying Bitcoin in Nigeria
In Nigeria, there are various ways to purchase Bitcoin. Below are a few examples:
Cryptocurrency Exchanges: Cryptocurrency exchanges are online platforms where you can buy, sell, and trade various cryptocurrencies, including Bitcoin. Platforms like Busha, Luno, Quidax, and Binance are popular in Nigeria. To get started, you must sign up for an account, provide verification documents as regulations require, and deposit funds into your exchange account. Once your funds are deposited, you can place orders to buy Bitcoin at the current market price. These exchanges often offer user-friendly interfaces and mobile apps, making the process accessible even for beginners.
Peer-to-Peer (P2P) Platforms: P2P platforms like LocalBitcoins and Paxful connect buyers and sellers directly. This method allows you to find a seller offering Bitcoin for sale and negotiate the terms of the transaction. You can choose from various payment methods like bank transfers, mobile money, or even gift cards. While P2P platforms provide flexibility in payment options, exercising caution and ensuring the seller's legitimacy to avoid scams is essential.
Bitcoin ATMs: Bitcoin ATMs are physical machines that allow users to buy Bitcoin using cash or card payments. These ATMs are connected to online exchanges and provide a straightforward way to purchase Bitcoin offline. According to CoinATMRadar, as of April 2023, there are only 27 Bitcoin ATMs in Africa, with 2 of them in Nigeria. In contrast, Businesslist lists 16 Bitcoin ATMs in Nigeria. To use a Bitcoin ATM, users select the amount of Bitcoin they want to buy, insert the cash or card, and provide a Bitcoin wallet address. The Bitcoin is then sent to their wallet.
When choosing a method, thoroughly research the platform's security and reputation to ensure the safety of your cryptocurrency against hackers and scammers.

Where To Buy Bitcoin in Nigeria: The Best Crypto Exchange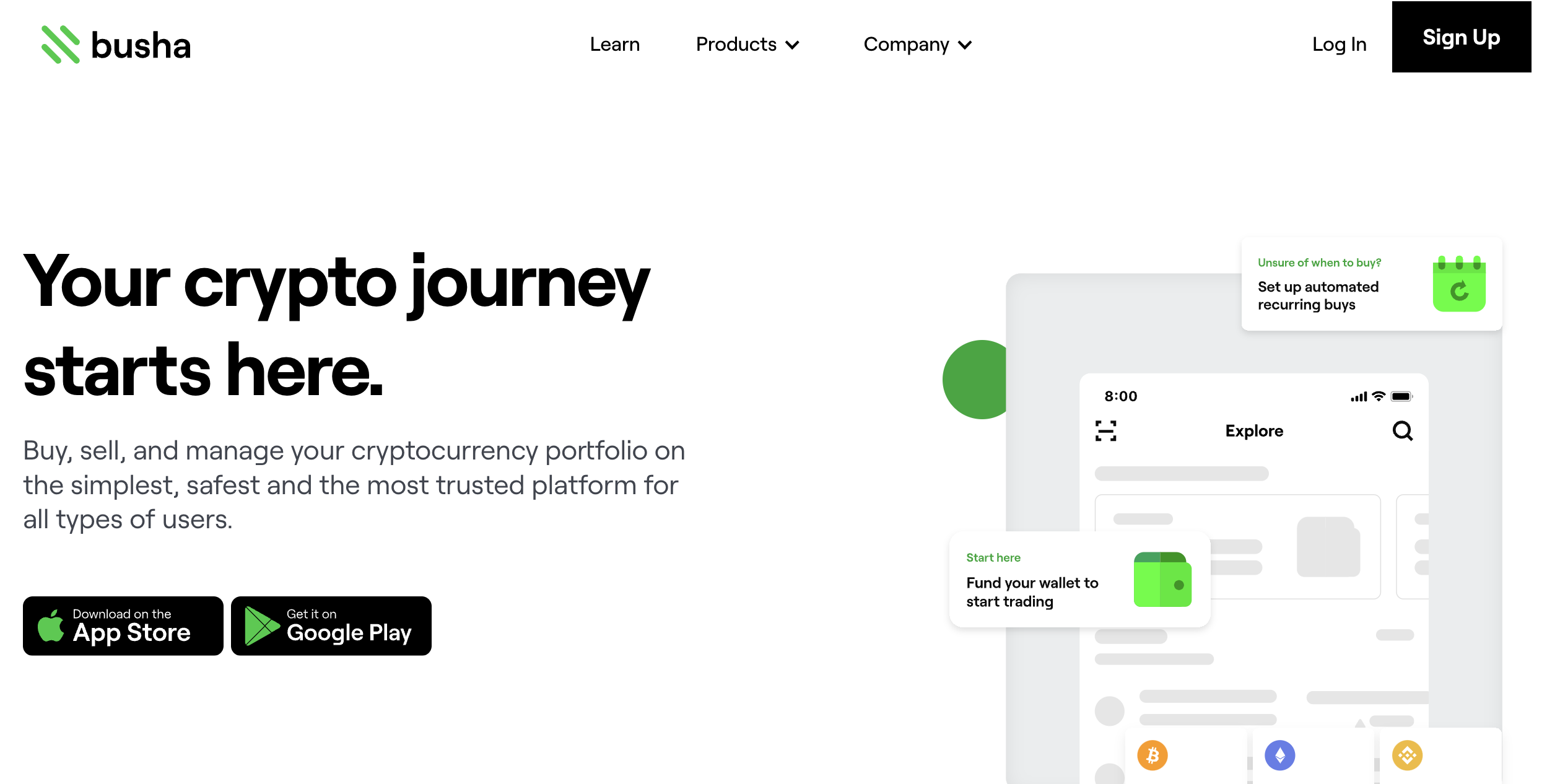 Busha is a prominent digital asset platform that serves as a convenient and secure hub for cryptocurrency enthusiasts in Nigeria. Designed to simplify the crypto experience, Busha empowers users to buy, sell, manage, and trade various cryptocurrencies, including Bitcoin. With a strong focus on accessibility, safety, and user-friendliness, Busha has become a go-to platform for beginners and experienced traders.

Top 10 Benefits of Buying Bitcoin in Nigeria Using Busha
Security: The platform prioritizes the safety of users' funds. It implements robust security measures to protect against threats, ensuring users can trade and transact peacefully.
Diverse Assets: Busha supports a wide range of cryptocurrencies, allowing users to diversify their portfolios and explore various trading opportunities beyond just Bitcoin.
Customer Support: With 24/7 human customer support, Busha assists whenever users need it, enhancing the overall user experience.
Trade Instantly: Busha offers the flexibility to buy, sell, and swap crypto assets instantly. Users can deposit fiat or crypto into their secure wallet, seamlessly execute transactions, and withdraw funds externally.
Recurring Buys: Users can schedule automatic crypto purchases daily, weekly, or monthly. This feature helps users practice consistent trading strategies, taking advantage of the average gains over time.
Limit Orders: Busha allows users to set buy or sell orders at specific prices. This feature enables more strategic trading, ensuring transactions occur at desired rates.
Coin Table: This feature keeps users updated on the latest trends in the crypto market. It highlights popular, newly listed, and top-gaining coins, providing valuable insights for informed decision-making.
Yield: Busha Yield offers an opportunity to earn interest on saved stablecoins. Users can earn up to 7.5% APY on their holdings, with daily interest payouts and no lock-in periods.
Spend: Busha Spend lets users spend their cryptocurrency assets directly from their wallets. Users can purchase airtime, data, and shopping vouchers and earn instant cashback rewards on transactions.
Commerce: Busha Commerce allows businesses to accept stablecoins like USDT and USDC from customers worldwide, offering global payment solutions without the risk of chargebacks or identity theft.
Busha represents more than just a cryptocurrency exchange platform; it's a gateway that simplifies crypto participation for Nigerians. With its diverse features and commitment to user satisfaction, Busha plays a vital role in shaping the country's growing crypto landscape.

How to Buy Bitcoin in Nigeria on Busha: Step by Step process
Sign Up and Verification:
Begin by signing up for a Busha account.
Verify your details to complete the registration process.
2. Create a Wallet and Fund Your Wallet with Naira:
Click on the "Portfolio" section.
Select "Naira" from the options.
Click "Add Cash" to fund your wallet with Naira.
Choose the "Connect" option for fast, easy, and trustworthy peer-to-peer cash deposits.
Enter the amount you wish to deposit.
Select a payment account or add a new one.
Pick from the available partners and confirm your choice.
You'll have a 15-minute window to complete the bank transfer and confirm the payment.
Once done, your Naira wallet balance will reflect the deposited amount.
3. Buy Bitcoin:
After funding your account, you can instantly buy Bitcoin:
Go to the explore page and click on "See All Coins" (Follow your favourite coins for a better experience with Busha).
Search for "Bitcoin" and add it to your list.
Bitcoin is now part of your watchlist (the coins you follow).
Choose the amount of Bitcoin you want to buy; a live exchange rate is displayed above.
Confirm your order and proceed to place the buy order.
After confirmation, your purchased Bitcoin will appear in your wallet immediately.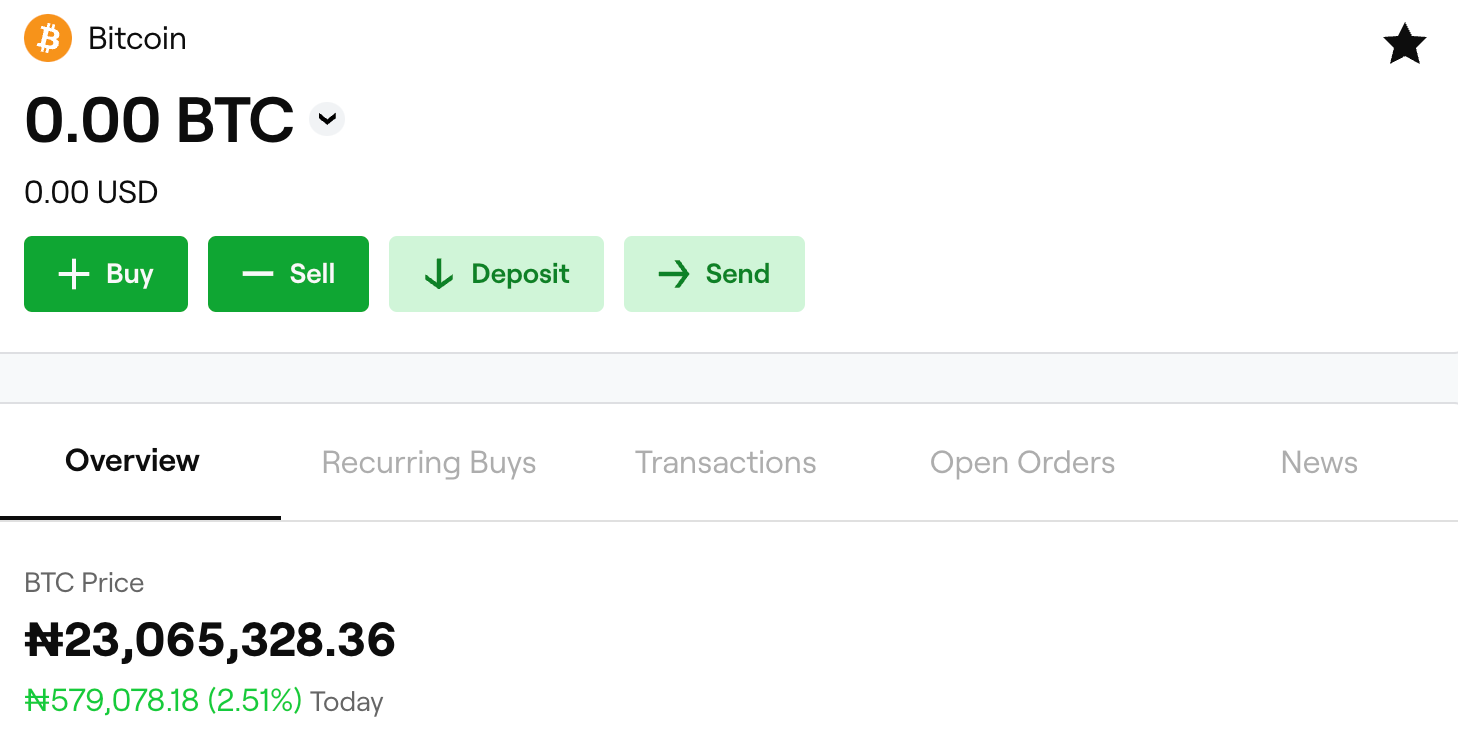 By following these simple steps, you'll be on the path to purchasing Bitcoin in Nigeria through the Busha platform. Additionally, Busha offers the convenience of selling, depositing, and sending Bitcoin in Nigeria at the most favourable rates.
Some Helpful Bitcoin Resources
Frequently Asked Questions
Here are answers to frequently asked questions about buying Bitcoin in Nigeria:
How much is Bitcoin in Nigeria?
The value of Bitcoin undergoes daily changes due to the inherent volatility of the cryptocurrency market. This is why it's advisable to consider a long-term investment perspective when buying Bitcoin.
As of August 24, 2022, the present Bitcoin price is ₦26,947,248.89, reflecting a growth of ₦2,501,621.83 (9.28%) over the past month. While economic challenges play a role, many cryptocurrency traders remain hopeful for an increase in Bitcoin's value.
We're excited to share that at Busha, we're actively developing a Cryptocurrency Converter/Calculator. Once it's launched, we'll promptly update all our users with the latest information.

Should I buy Bitcoin now?
With the increasing digitization of the world, the utilization and acceptance of digital currencies are on the rise. The Nigerian government's recent development of the e-naira indicates the potential for future crypto adoption. People choose to buy Bitcoin for various reasons, including investment, hedging against currency devaluation, facilitating easy transactions, and for savings purposes. The decision to buy Bitcoin should align with your personal goals.
At Busha, we aim to provide you seamless access to purchasing Bitcoin in Nigeria. Through Busha, you'll enjoy a simple, swift, and secure method to buy and sell Bitcoin at the best possible rate. Easily Buy Bitcoin with Naira on Busha.

When is the best time to buy Bitcoin?
The best time to buy Bitcoin is often when you have a long-term trading perspective. Due to the volatile nature of the cryptocurrency market, timing the market ideally can be challenging. Consider buying when the price aligns with your trading goals and risk tolerance.

How do you buy Bitcoin with a credit card?
To buy Bitcoin with a credit card, you can explore platforms like Busha that offer this payment option. Sign up on Busha, verify your account, navigate to the Buy/Sell section, choose Bitcoin, select credit card as your payment method, and follow the prompts to complete the purchase.

How to buy Bitcoin with a debit card?
Compared with a credit card, Busha provides the option to purchase Bitcoin with a debit card. Register on Busha, complete the required verification, go to the Buy/Sell section, opt for Bitcoin, select debit card as your payment method, and follow the steps to finalize the transaction.

Where to buy large amounts of Bitcoin?
If you want to buy large amounts of Bitcoin, Busha offers a secure and reliable platform. With its user-friendly interface and extensive network, Busha facilitates larger transactions efficiently.

Best place to buy Bitcoin instantly?
Busha is a top choice for buying Bitcoin instantly in Nigeria. The platform's streamlined process lets you quickly purchase Bitcoin and other cryptocurrencies, making it an ideal option for instant transactions.

Best app to buy Bitcoin in Nigeria?
The Busha app is among the best choices for buying Bitcoin in Nigeria. It provides a seamless mobile experience, allowing you to manage your cryptocurrency tradings conveniently.
How to buy Bitcoin without ID verification?
While some platforms may offer limited options for buying Bitcoin without ID verification, it's recommended to use reputable platforms like Busha that prioritize security. Completing ID verification helps protect your trades and adhere to regulatory requirements.
Join the newsletter to receive the latest updates in your inbox.